Santa Barbara
#rvlife #travel #santabarbara
2022-03-13
2022-03-13
#rvlife #travel #santabarbara
https://img.youtube.com/vi/kJvyvZ2KINY/mqdefault.jpg
https://img.youtube.com/vi/kJvyvZ2KINY/maxresdefault.jpg
1280
720
We camped near Santa Barbara for $25/night which allowed us to explore the city for a week! We found some inexpensive things to do around Santa Barbara, and a couple of splurges worth the money.
Santa Barbara on a
Budget
Our visit to Santa Barbara California was nothing short of amazing. Having never been there before, we weren't too sure what to expect, but we loved it. I even turned to Jay one day and told him that I would live here if we could.
Santa Barbara is known as a very expensive place to be. It is home to some of Hollywood's rich and famous afterall. Even Prince Harry of the British Royal Family has a home here. We managed, however, to camp nearby for $25/night and to find some inexpensive attractions and a couple of splurges that we felt were well worth it.
Where We Stayed for $25/night in Santa Barbara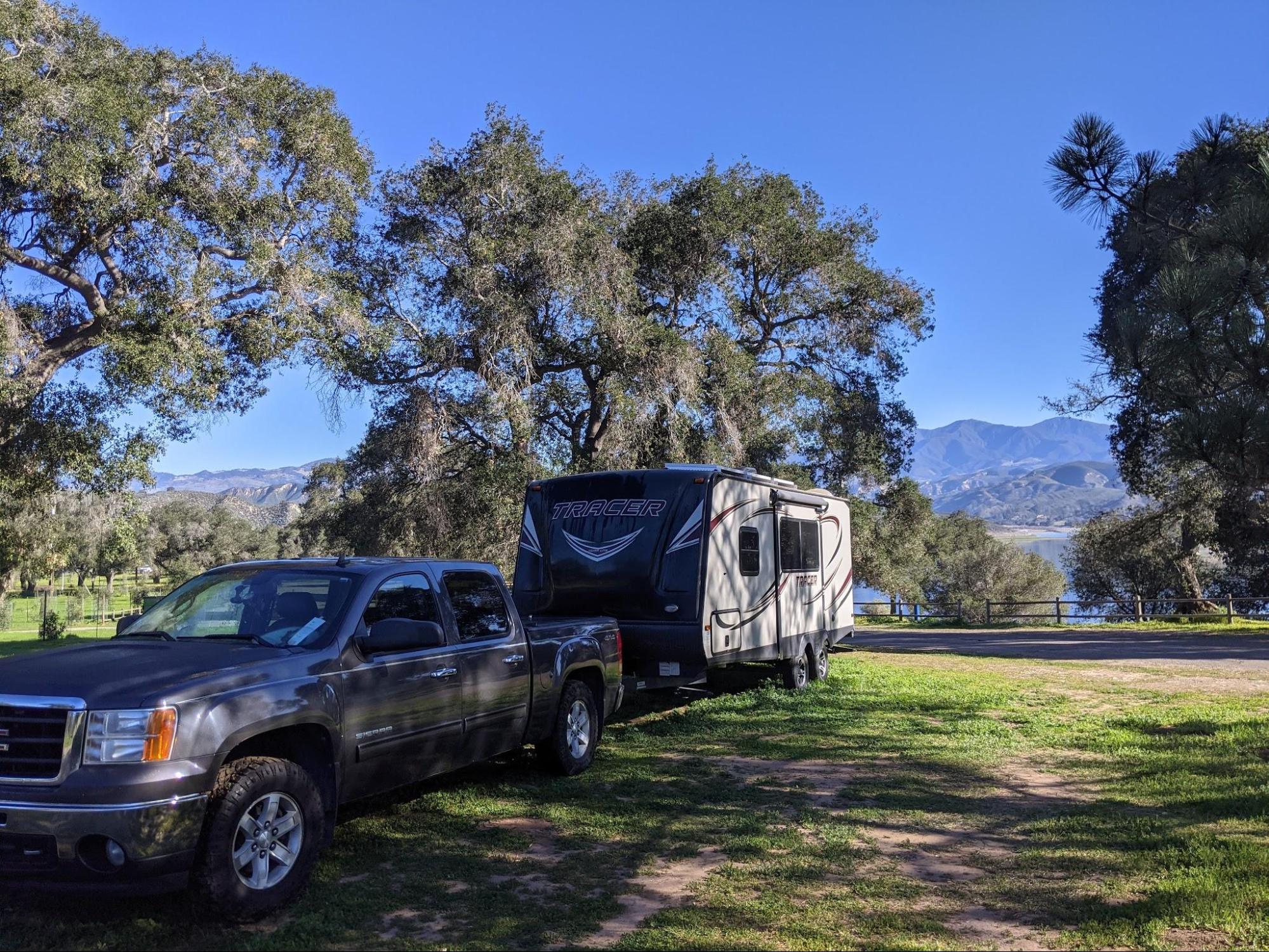 Ok, so we didn't stay in a swanky hotel, or chic AirBnB condo. We have our trailer with us after all, so we camped. We found an awesome campground about thirty minutes out of town at Lake Cachuma. The sites were spacious, there were tons of amenities, and they had a lot of different site options ranging from dry camping (no hookups) to partial or full hookups (water, electric, and sewer). They even had yurts and small cabins available for rent at reasonable prices. We liked it so much that we stayed for an entire week and took a few day trips into the city.
Inexpensive Attractions in Santa Barbara
We packed a lot into our visit to Santa Barbara, and when you're on a budget like us, it's always great to find free or cheap things to do.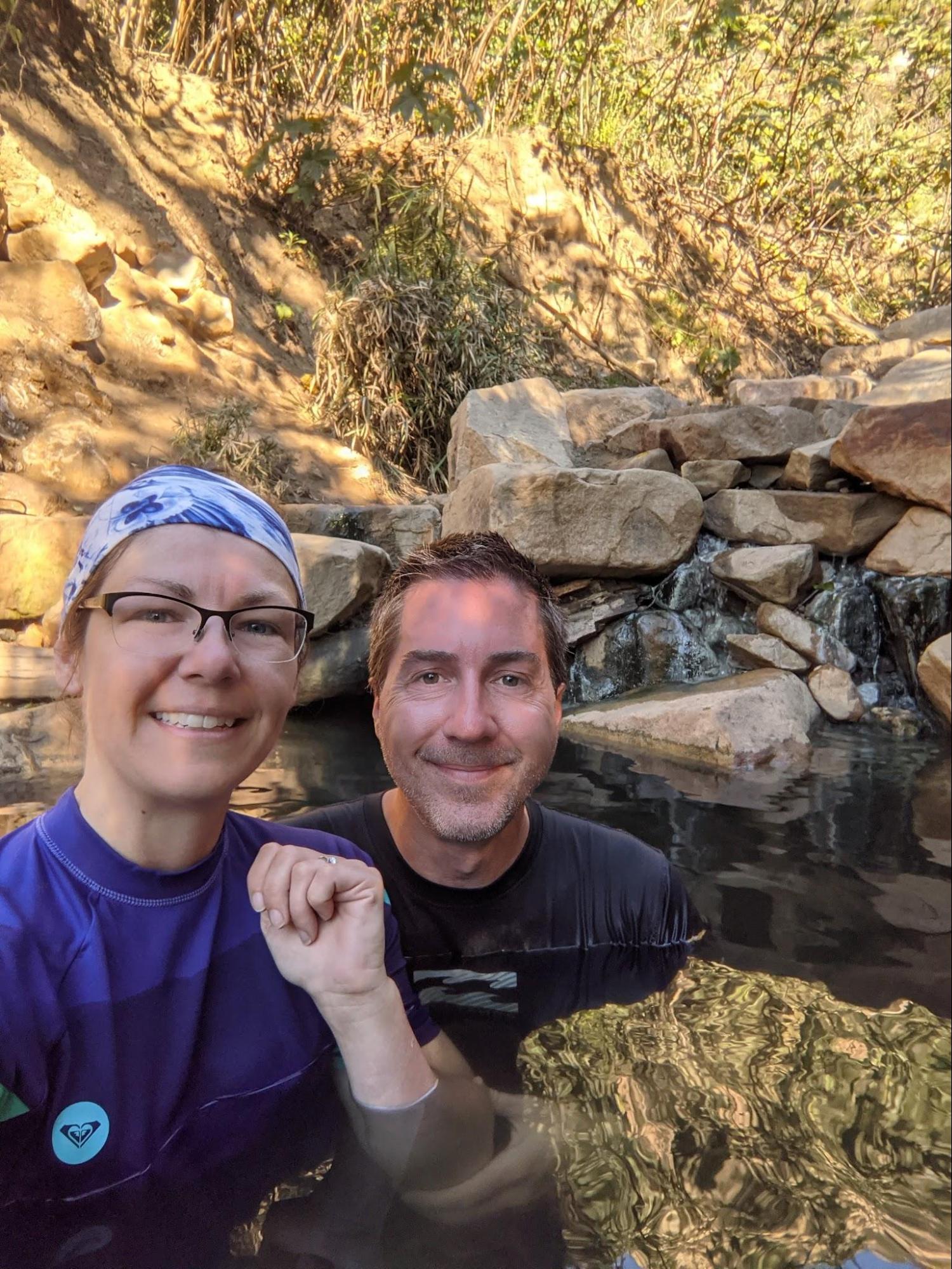 One of our favorite things we did was the Hot Springs Canyon Trail. We did have to pay a $5 fee for a pass that allowed us to park and access the trail, which we purchased from a Big 5 Sporting Goods (they can also be purchased online if you have a printer handy to print your pass to display on the dash of your vehicle). We came very early in the morning and the trail took us to a hot spring where we could hang out and relax in the rejuvenating waters.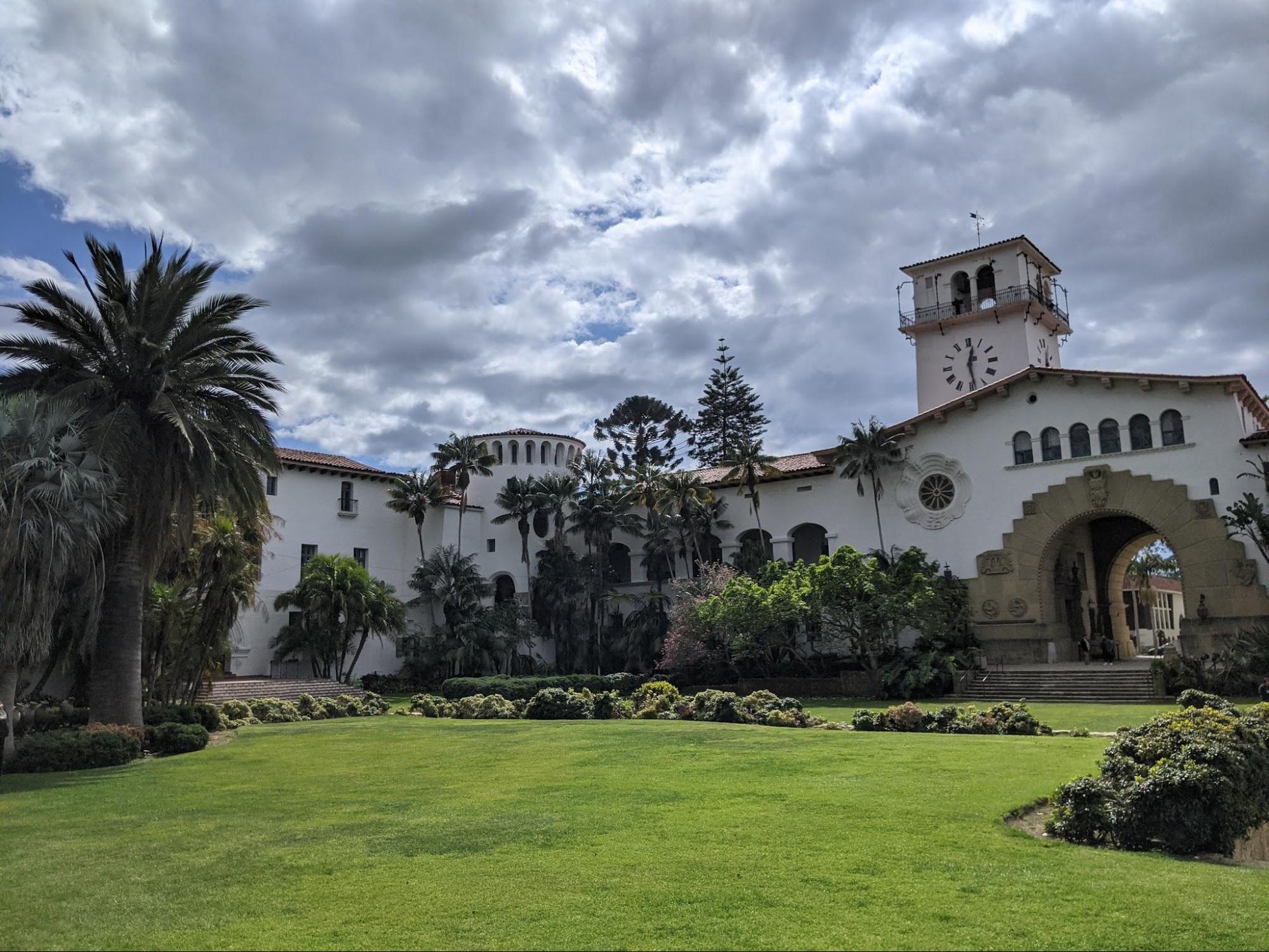 We made a stop at Stearns Wharf to look out at the ocean and get a view of the cityscape, and a stop at Paseo Nuevo, an outdoor shopping mall that is architecturally very beautiful in it's Spanish Revival style. There is parking at both of these locations, which is paid, but is free for short visits of about an hour. We also made a stop at the courthouse, which is also modeled in the Spanish Revival style, and has tours available at certain times of the day. Unfortunately, no tours were operating at the time of our visit as they were still canceled due to the covid pandemic. The courthouse, although a historical building, is still a working courthouse and bustling with activity. It's a popular spot for small weddings, of which we saw two on the grounds taking place while we were there.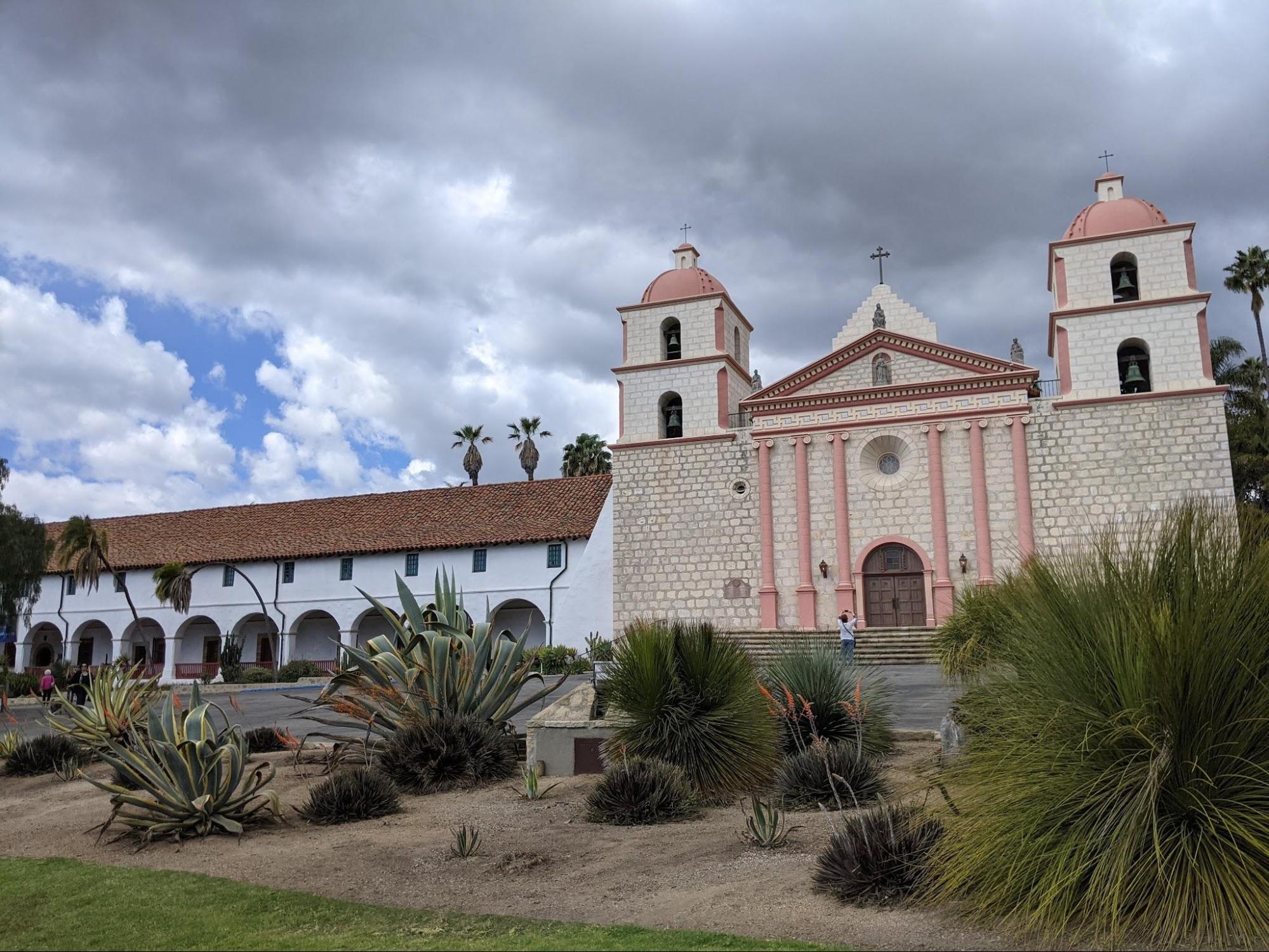 Another favorite stop was the Old Mission of Santa Barbara. This site cost $15 per person to enter and at the time was holding self-guided tours, but they do generally offer guided tours of the grounds. The mission is also still a working church and has a great museum explaining the history and role it played during Spanish colonial times in California. We learned a lot here and to top it off they have a nice gift shop where we found a couple of nice souvenirs.
Santa Barbara Splurges Worth the Money
While visiting Santa Barbara we found there were a lot of things that we could potentially splurge on, including the Santa Barbara Film Festival that was on while we were there. However, we chose just two things to splurge on. One was a meal and the other was a tour.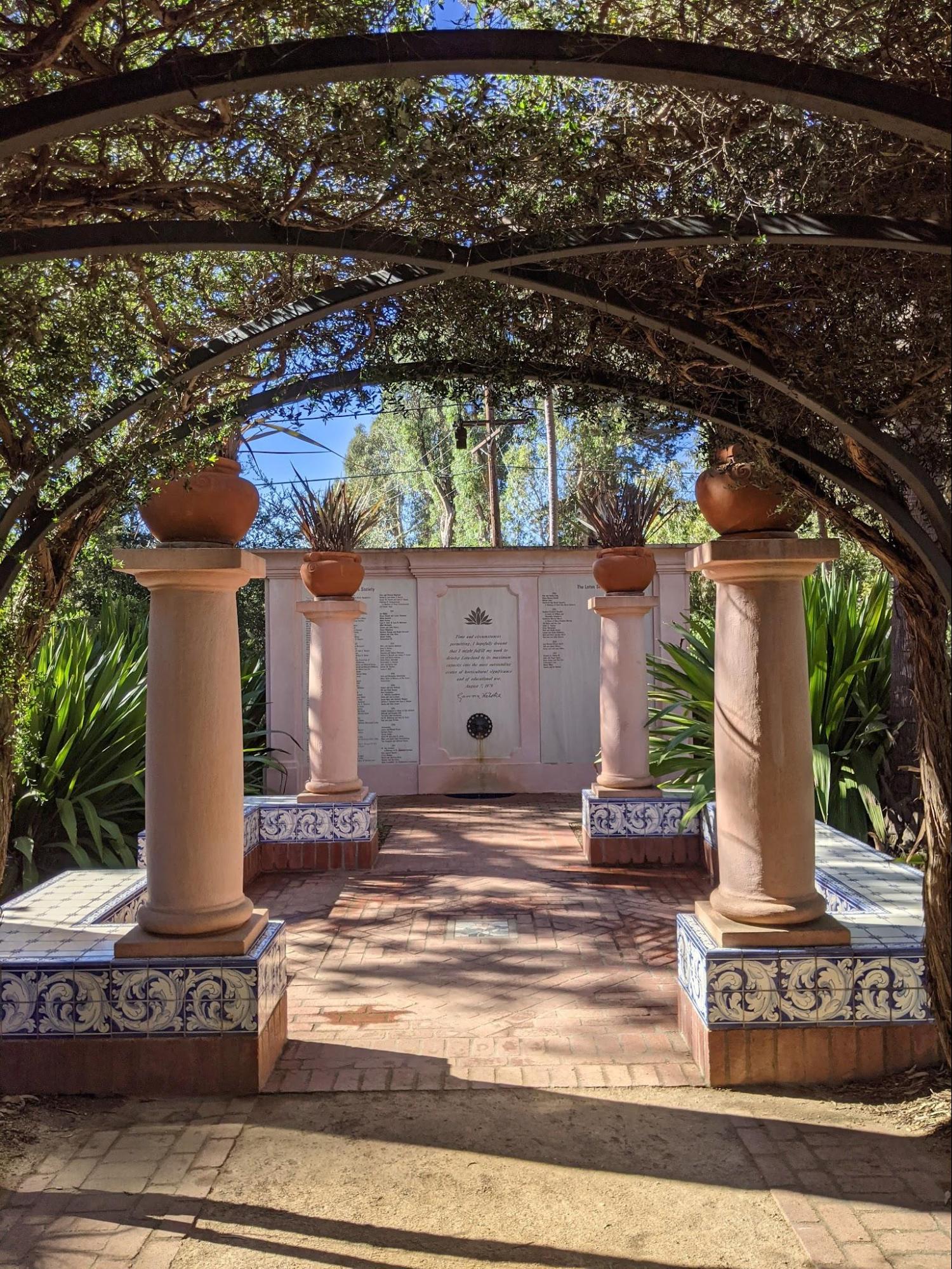 We chose to take a guided tour of the Lotusland gardens, said to be one of the top 10 most beautiful gardens in the world. Entry was $50 a person and the tour/visit was limited to two hours. As it turns out, they operate under very strict rules set by the county that dictate how many visitors they are allowed to welcome at any given time, how many parking spaces they can have, and even how many events they can hold each year. This all makes the place a little exclusive and some people have had to book a ticket months in advance of their visit.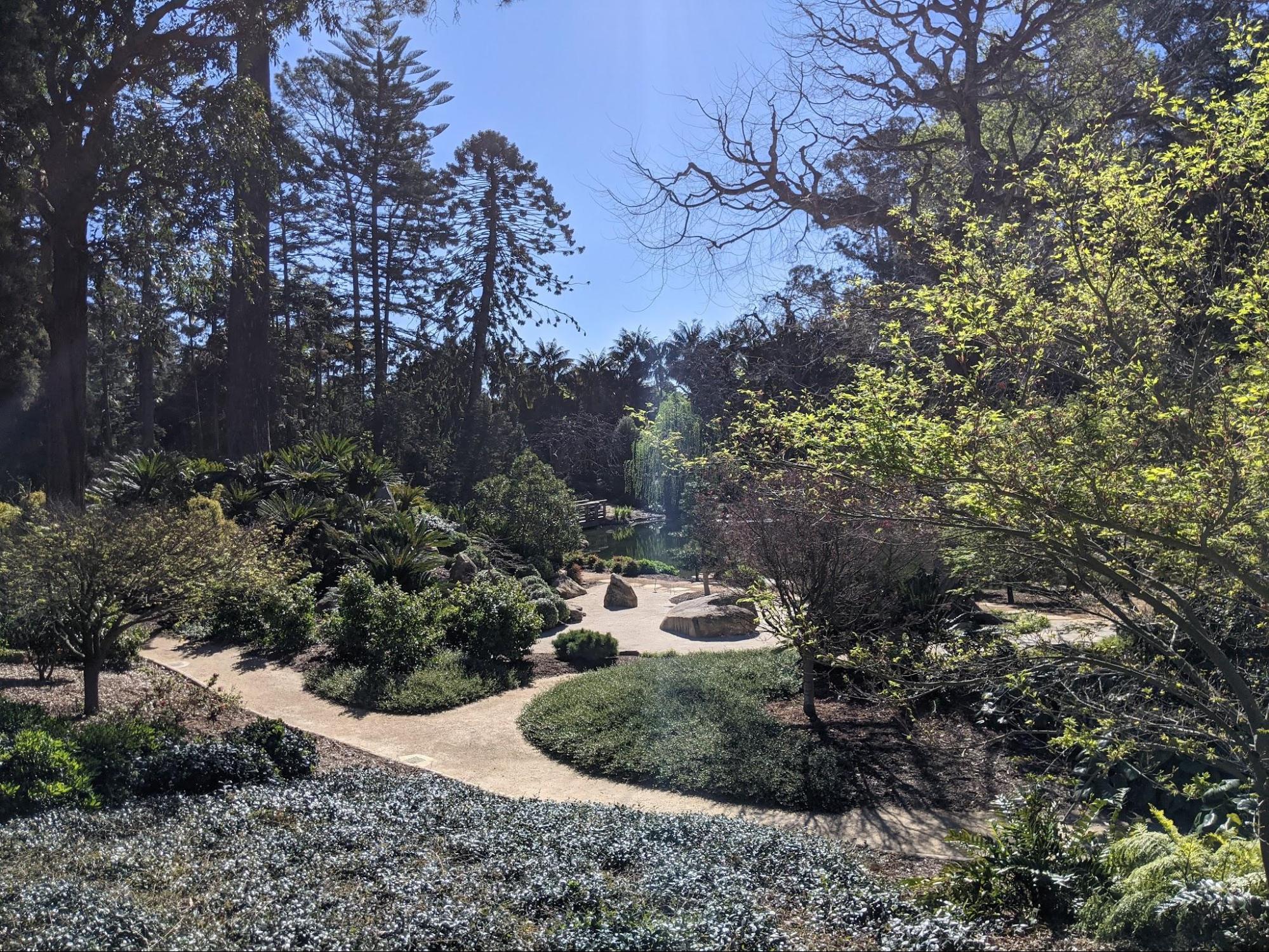 The gardens were nothing short of spectacular. The docents (volunteers) who lead the tours are amazing and love to share stories about the grounds, its previous owners, and the various collections of plants. Some of the plants now growing here are extinct in the wild, others are extremely rare and exotic. All of it is playfully landscaped making visitors feel they are moving through a play or movie set. It was beautiful and well worth the money, we thought.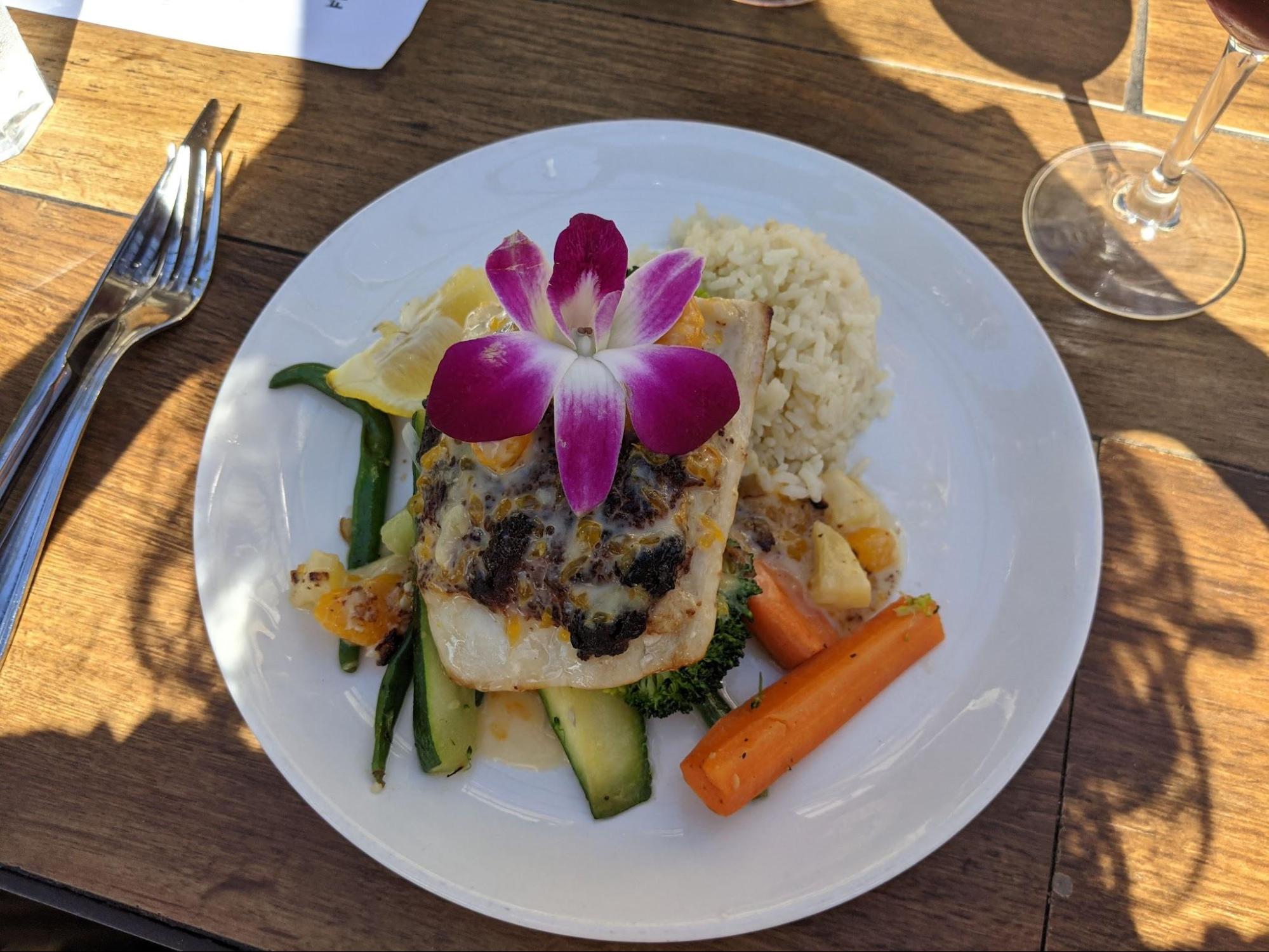 Our other splurge was a meal out. We generally buy groceries and cook back at the trailer when we're traveling, but wanted to celebrate my birthday with a meal out. We chose to go to the FisHouse restaurant for lunch and enjoyed sipping sangria on the patio while tasting our amazing meals. I had the macadamia nut crusted mahi mahi and was blown away by its beautiful presentation. Santa Barbara is not short of exciting dining options, and we really enjoyed this meal.
We had such a wonderful time exploring Santa Barbara and look forward to going again one day. We will definitely be planning to camp at Lake Cachuma again when we do.

Until next time, keep on living the life you've imagined!
Mel, Jay & Benny