Free camping near Phoenix, AZ
#rvlife #travel #phoenix #camping
2022-02-27
2022-02-27
#rvlife #travel #phoenix #camping
https://img.youtube.com/vi/xijX_PpOWFk/mqdefault.jpg
https://img.youtube.com/vi/xijX_PpOWFk/maxresdefault.jpg
1280
720
We camped for free near Phoenix AZ and got bugged. Despite our unwelcomed winged guests, we got out to explore the Phoenix Area to see Historic Glendale, the Glendale Xeriscape Gardens, and South Mountain Park.
Robbins
Butte
Finding free camping near urban areas can sometimes be a challenge for us with our trailer. We don't usually camp in the city, but occasionally we have the need to, like for going to medical appointments. This was the case for our stay near Phoenix. We had our eyes checked and needed a place close-by to stay while we waited for our new glasses to be made.
A little online searching led us to the Robbins Butte Game Reserve, where it is possible to boondock for a period of up to fourteen days. This was the closest free camping we were able to find within the Phoenix/Glendale area. It is actually located just south of a town called Buckeye, and is a thirty to forty minute drive into Phoenix, depending on where you are going.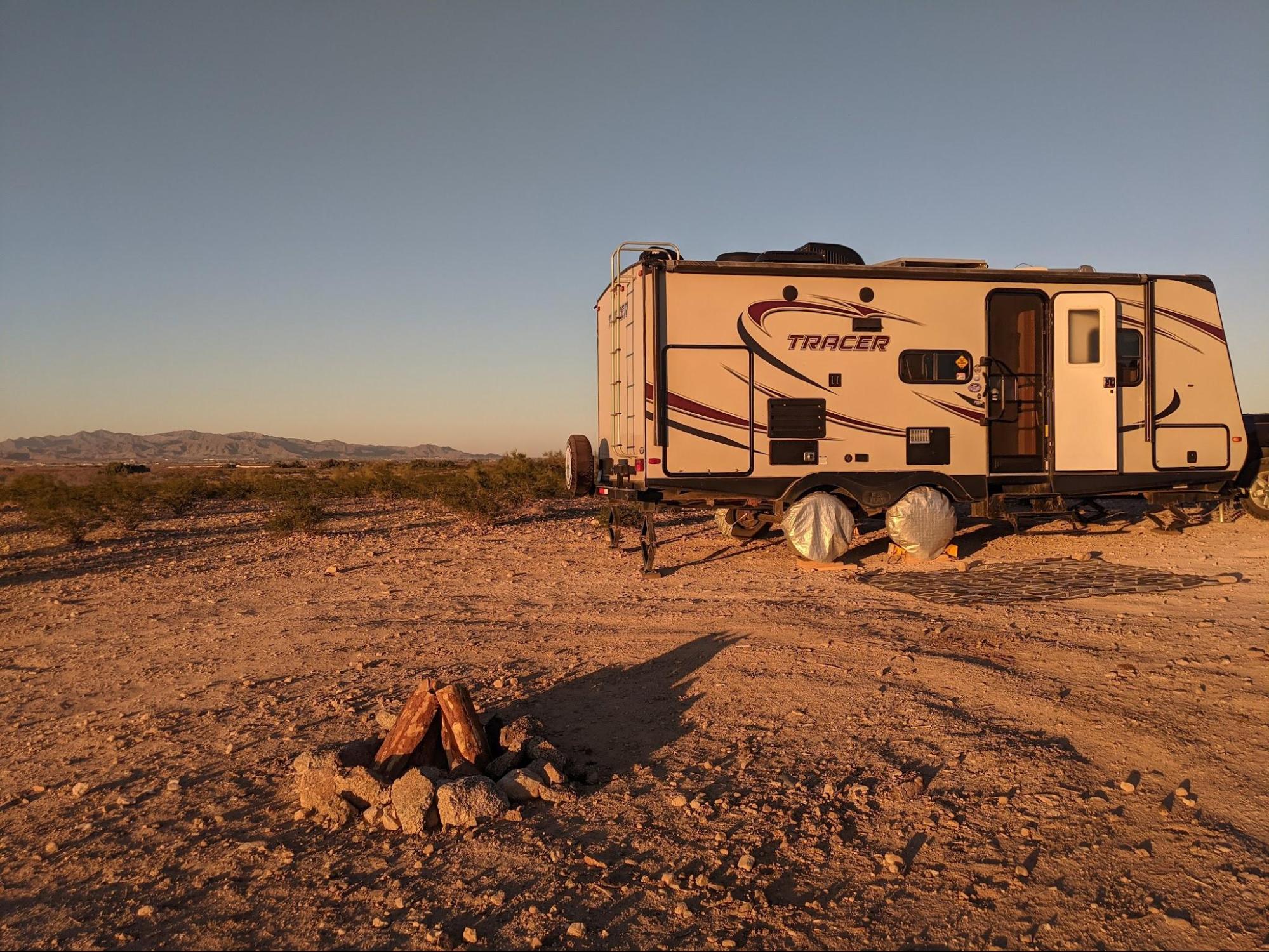 It was not the most perfect, quiet, picturesque location, but it certainly did the job and gave us the opportunity to explore the Phoenix area. Our biggest tip for staying here is to come prepared with fly paper. There were flies everywhere, and on one occasion I swatted fifteen of them inside the trailer! Benny had a ball hunting them, but even he got bored of them eventually.
3 Free Things To Do In Phoenix
The Phoenix area, we learned, has a lot of outdoor attractions. There are a lot of parks, hiking trails, gardens, and historical sites. We weren't able to fit everything in, but we managed to find a few gems that we would recommend checking out. Best part was that they were all free!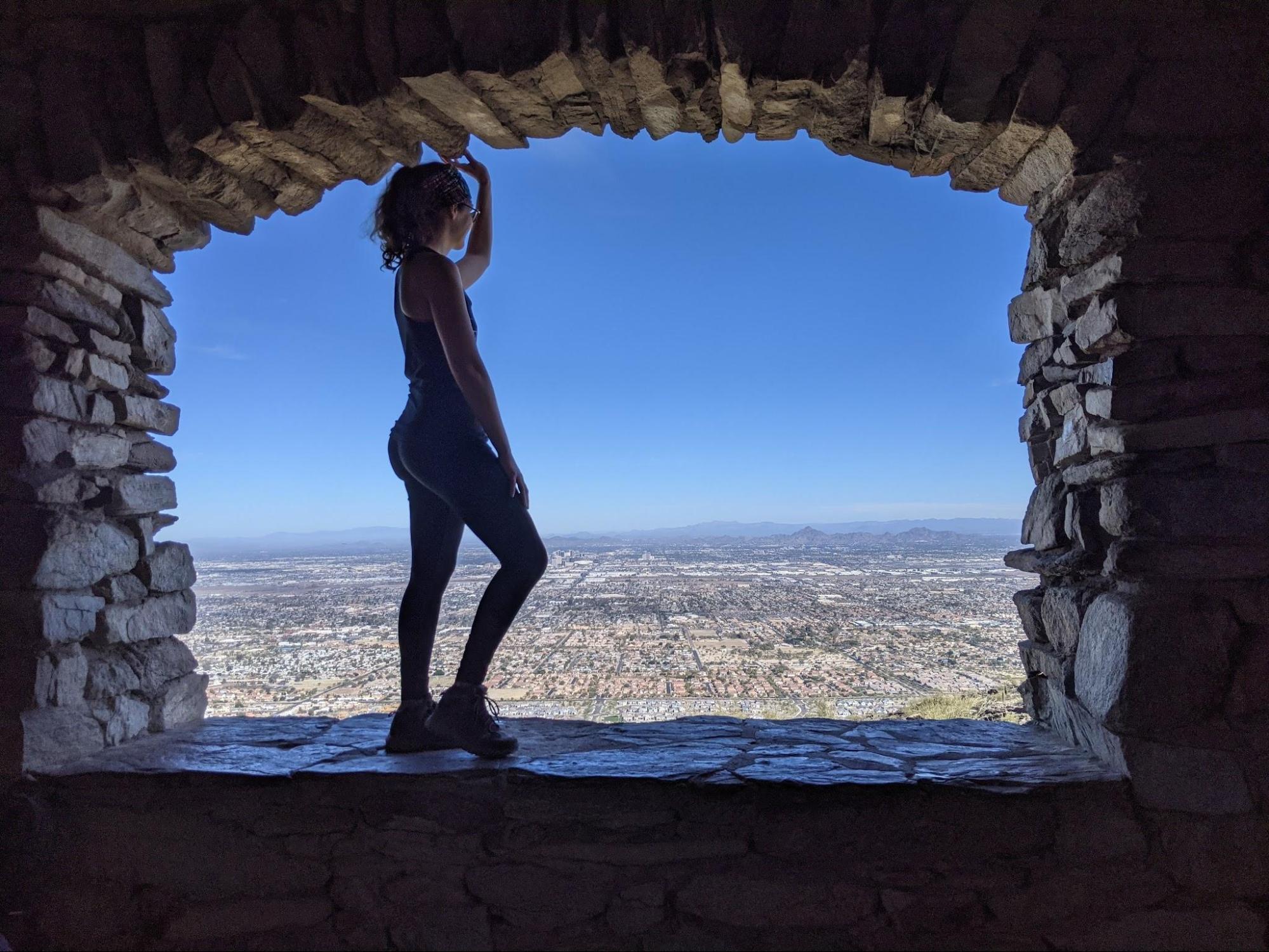 The Dobbins Lookout trail at South Mountain Park and Preserve is a moderate in and out hike that took us a few hours to complete and has a beautiful lookout at the top. There were signs warning about hiking in the heat, so we did this as a morning hike and finished around lunchtime. It's a pretty popular hike and we passed a lot of people on a Sunday trip to this park in February. Had we been thinking ahead, we would have brought a picnic lunch to enjoy at the top in the shade of the stone building at the top. The park has a number of trails and other viewpoints to enjoy as well. A full day could easily be spent here.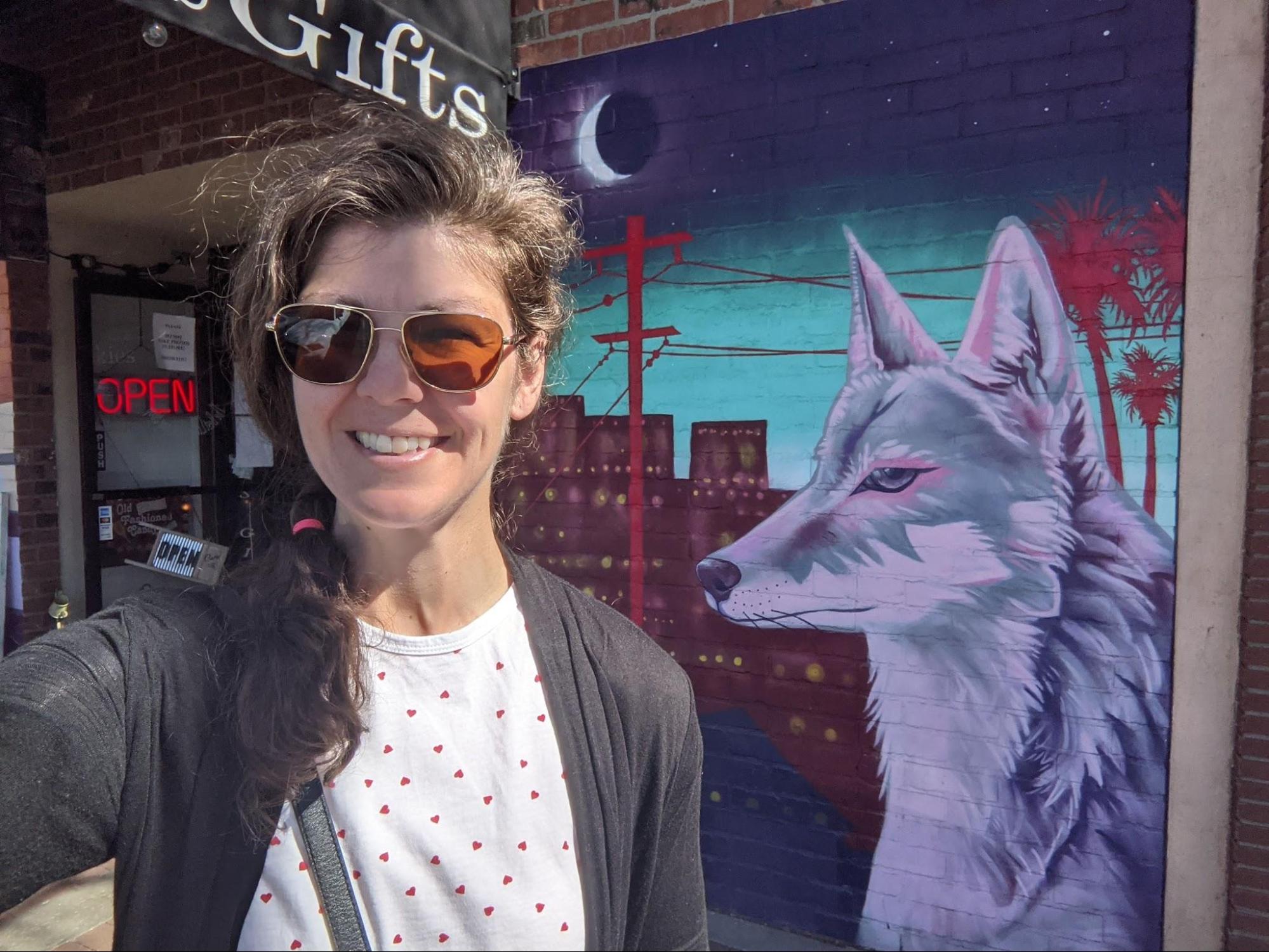 Historic Downtown Glendale was a cute area with lots of little shops, cafes, and restaurants to check out. There are a lot of century old bungalow-style buildings that all used to be a part of a very affluent part of town back in the day. These have all now been converted into businesses and make for an interesting visit. We made a stop in at a cafe called Coyote Oaties Cookies, where they make these massive mounded oatmeal cookies with some pretty unique flavor combinations. Mine had cherries, chocolate and nuts in it, Yum!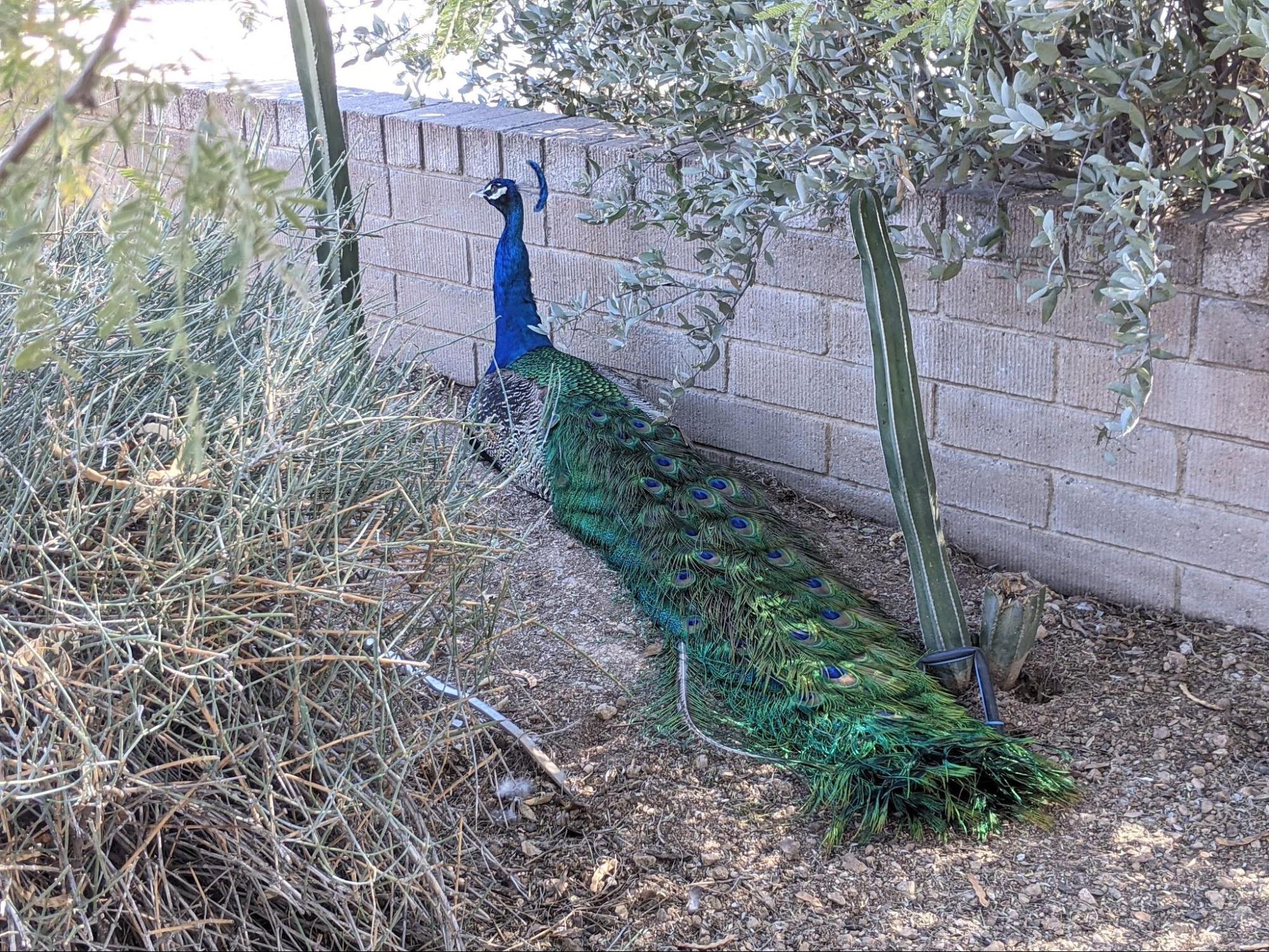 The Glendale Xeriscape Garden nextdoor to the Sahuaro Ranch Park was a nice short stop. There are four small gardens surrounding the main branch of the public library. We were pleasantly surprised to find a good sized flock of peacocks living here. Most of the plants were labeled as well, and each of the four gardens had a different theme - cactus garden, habitat garden, tree trail, etc. Next to the habitat garden was a gate that led into the Sahuaro Ranch historic site that had lots of informational signs, walking paths, and a few historic buildings on the grounds, too (also free to explore).
We really enjoyed our time in the Phoenix area and having the option to camp for free really kept the budget low. Furthermore, the free activities we found allowed us to get a taste of the city and spend our money trying some treats and buying our new glasses. As far as urban stays go, this one was pretty good.

Until next time, keep on living the life you've imagined!
Mel, Jay & Benny