A Tough Hike With Big Views
#rvlife #travel #saddle-mountain
2022-02-24
2022-02-24
#rvlife #travel #saddle-mountain
https://img.youtube.com/vi/s1TaOS_FQDQ/mqdefault.jpg
https://img.youtube.com/vi/s1TaOS_FQDQ/maxresdefault.jpg
1280
720
Saddle Mountain hike is hard, and somewhat terrifying at times, but the payoff is amazing. At the top there are views of mile upon mile of desert and mountains.
A Tough Hike With Big
Views
While camping on the free BLM land at Saddle Mountain in the Arizona desert, we took the opportunity to get a little exercise. Back home, we like to get out for a hike about once a week, and on this trip so far we haven't been getting nearly as much exercise as we had thought we would. We were due for a good workout and that's exactly what Saddle Mountain gave us.
This hike started out fairly gentle and quickly increased in intensity to a moderate hike and then finally to a hard hike for the last quarter. Along the path we weaved in and out of the mountain's shadow, a welcome reprieve from the warm day, and saw a lot of different desert vegetation. Occasionally we would stop to listen for bighorn sheep because we had seen some photos of them on a review of the hike, but never saw or heard a single one.
Once to the top, we enjoyed the most fantastic view of the area and could see for miles. Walking up to the edge of the mountain was both terrifying and exhilarating - no guardrails here to protect you from a deadly fall down the cliff face. The closest I could get was within 5 feet, whereas Jay belly crawled to the edge to have a look over the side. That made me nervous, but he survived.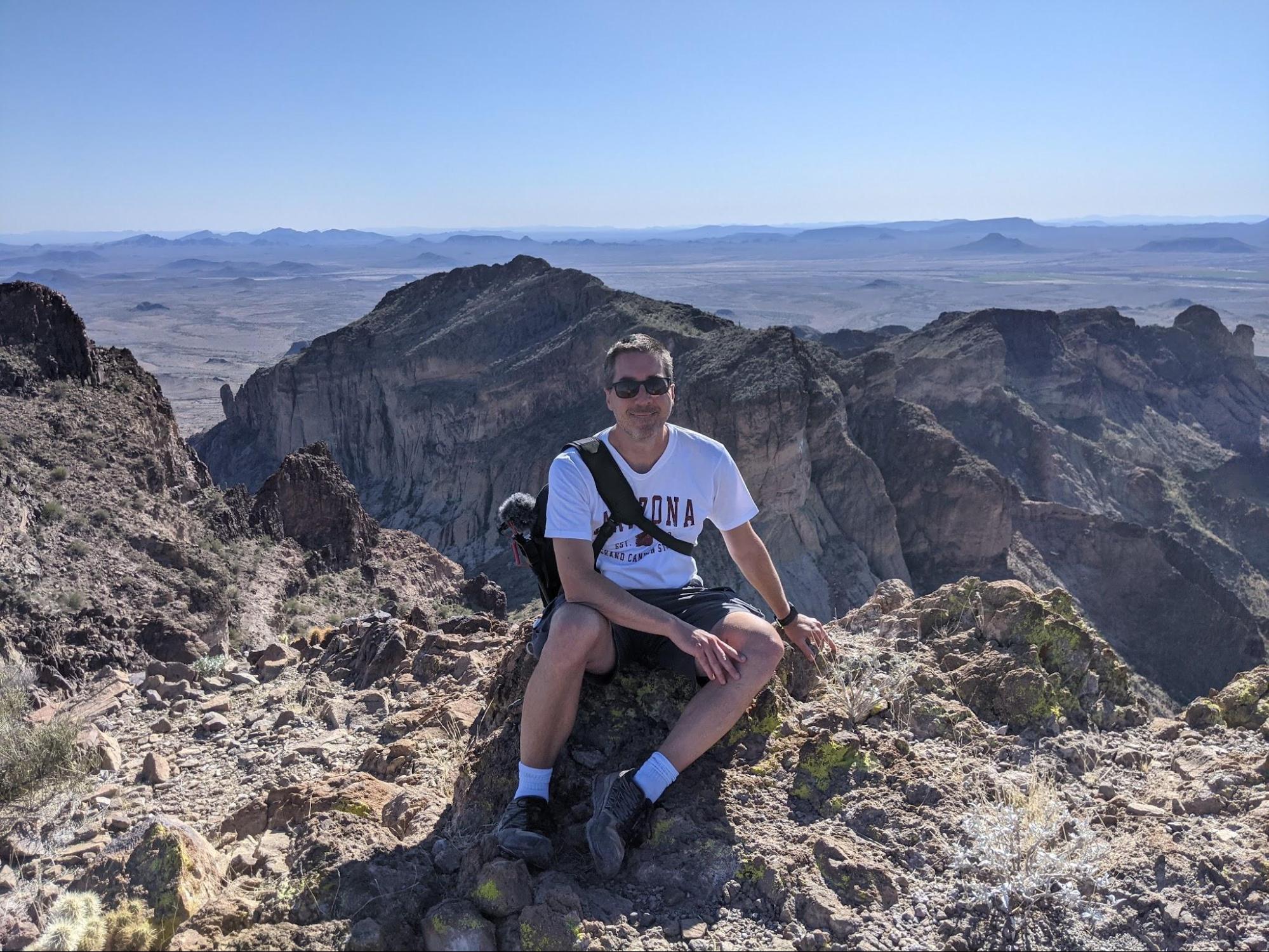 The way down was equally as terrifying at first because the hard climb up was all on loose rock and now we not only had to contend with that, but also the steep incline we were trying not to fall down face forward. Careful foot placement and slow, deliberate movements got us down without incident.
This hike turned out to be pretty cool and with a big payoff. We loved the variety and challenge of it, and turned out to be exactly what we needed.

Until next time, keep on living the life you've imagined!
Mel, Jay & Benny