Best Things To See On The Icefields Parkway, Alberta
#rvlife #travel #icefields
2021-10-31
2021-10-31
#rvlife #travel #icefields
https://img.youtube.com/vi/06Mm0g_huaU/mqdefault.jpg
https://img.youtube.com/vi/06Mm0g_huaU/maxresdefault.jpg
1280
720
Leaving Jasper southbound on the ICEFIELDS PARKWAY (Hwy 93 Alberta) we spend an entire day exploring some of the INCREDIBLE STOPS along this 232 km stretch of highway.
Best Things To See On The Icefields Parkway, Alberta
Canada
The Icefields Parkway is Canada's most beautiful drive and definitely worth it. Add it to your Canada Rocky Mountain road trip bucket list - it's a must-do! Best of all, it's FREE! There are so many stops along the way it can be hard to choose which ones to stop at. We spent an entire day exploring some of the incredible stops along this 232 km stretch of highway between Jasper and Lake Louise.
Here are the stops we made:
Athabasca Falls
We spent about 30-45 minutes exploring the paths and enjoying the views here. The incredibly blue glacial waters are enchanting and the interpretive signs are really interesting, describing how the canyons and potholes were formed.
Goats and Glaciers lookout
Sadly, we didn't see too much when we stopped here because of the morning cloud cover. However, we have since seen other's photos and videos of this stop and there is a very beautiful view to enjoy. This is an easy roadside stop that we spent about 10-15 minutes at.
Stanley Falls hike
We loved the Stanley Falls trail for its natural, unbound beauty. There are no paved pathways, no guardrails to prevent you from falling over the side, so watch your step. We spent just over an hour doing this hike. It's an in-and-out trail that follows the river to the falls.
Stutfield Glacier lookout
Another great roadside pull off with great views on a clear day. Bonus is that the parking lot is huge and there are toilets. We spent about 10-15 minutes admiring the views of the Stutfield Glacier.
Athabasca Glacier
If you only make one stop on the Icefields Parkway, we recommend this one. It's a nice walk, you can admire a glacier (somewhat) up close while at the same time really get an understanding of the impact of climate change on the glaciers. If you want more adventure, you can pay to ride one of the buses that will take you onto the glacier, or a guided tour that will hike beyond the barrier onto the glacier. We took the FREE option and stayed within the visitor limits and spent about an hour here.
Saskatchewan River Crossing
This is another roadside stop to admire a beautiful view. We even made friends with a curious raven in the parking lot, which was a good reminder to never feed wildlife so that they don't put themselves at risk by getting too close to people.
Bow Lake
This was our last stop on the Icefields Parkway and it was stunning. The Bow glacier feeds into the lake, which feeds into the Bow River that traverses all the way through Banff and into the Prairies. There are a few walking trails and the Num Ti Jah Lodge also sits at its banks. We spent about 20-30 minutes walking around and taking photos.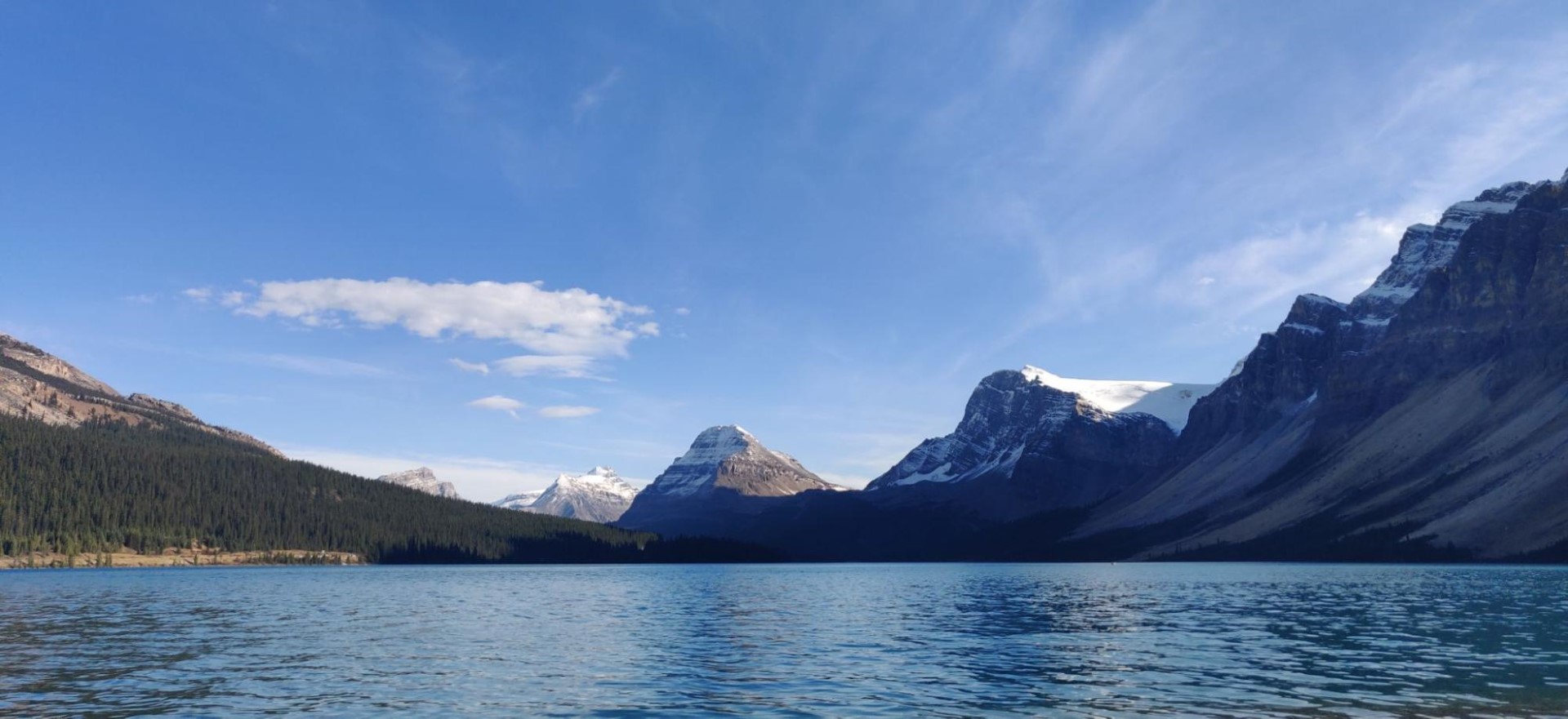 Know before you go:
Wildlife

- There are signs warning about wildlife all along the Icefields Parkway. If you are lucky you may see deer, moose, bears, elk, bighorn sheep, and other woodland creatures. These animals are generally more active at dawn and dust, so take care when driving at these times. Despite all the hype, we were only fortunate enough to see a couple of deer out for a morning stroll by the road. However, your experience may be very different. Never feed the wildlife because it puts them and people in danger.

Speed limit

- the speed limit on this highway is 90 km/hr and for good reason. With all of the pullouts, chances of wildlife, and beautiful views there is no reason to go any faster. In fact, we putted along at about 75-80 km/hr most of the way. There was just so much to take in at every single turn.

RV friendly

- Our convoy consisted of an SUV, one camper van, and a truck towing a travel trailer. We had no problems navigating in and out of the different pull-offs and parking lots at each of our stops. A lot of RVs travel the Icefields Parkway every year and all of the stops we made are large enough and able to handle these types of vehicles.

Until next time, keep on living the life you've imagined!
Mel, Jay & Benny