Lillooet: A Place to visit
#rvlife #travel #lillooet
2020-08-08
2020-08-08
#rvlife #travel #lillooet
https://img.youtube.com/vi/8VrK2883hnw/mqdefault.jpg
https://img.youtube.com/vi/8VrK2883hnw/maxresdefault.jpg
1280
720
The town of Lillooet, BC is full of things to do. We explore the town of Lillooet to learn about its gold rush history, wildlife, Seton lake, and first commercial winery.
I remember arriving at the town boundary of Lillooet on highway 99 and being drawn to the beautiful lookout on the side of the highway with the big bold 'guaranteed rugged' sign. It definitely set the tone for the adventure we were about to have in this town.
Downtown Lillooet
We started our tour, like we do with most new places, at the visitor center. This building also doubles as a small museum full of artifacts from the gold rush era and the town's history. Although we weren't allowed to go in (covid-19 rules at the time), the woman at the walk-up window was incredibly knowledgeable and passionate about Lillooet that we learned a lot by talking with her. We would advise stopping here, too. They can answer questions like "why is the bridge into town called the bridge of the 23 camels?" Incredibly, it actually has to do with camels!
We focused our time in town on the gold rush history here by visiting and learning about the "0-mile cairn", the Chinese rocks, hangman's park, and the massive jade boulders that can be seen around town. Then, we took a short drive to the Old Bridge on the edge of town to do some osprey watching. The visit was made even more interesting as we tried to imagine how semi-trucks managed to navigate the very tight turn to get onto the eastern side of the bridge. Another tidbit we learned at the visitor center.
S
eton Lake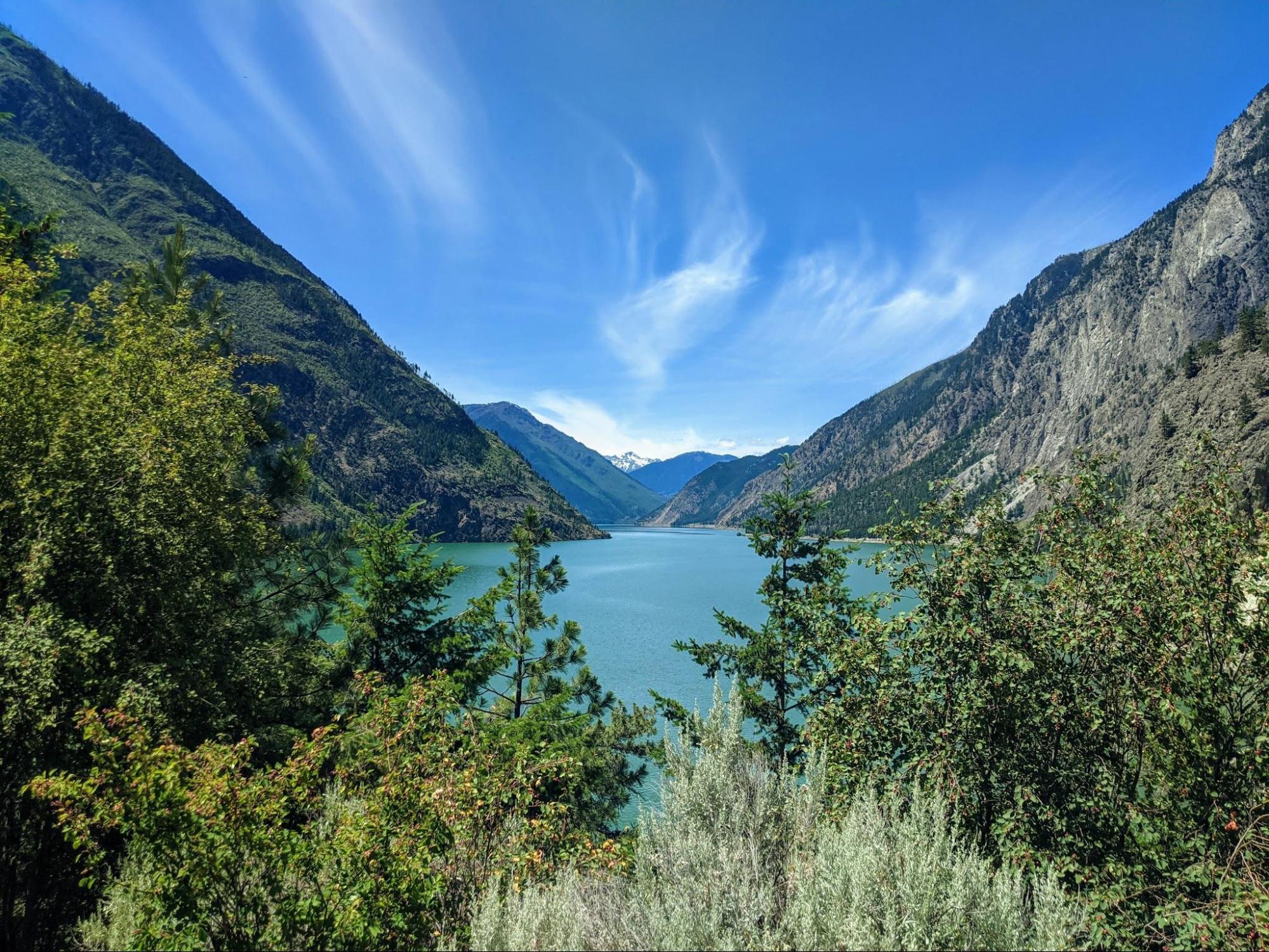 Next on the agenda was at Seton lake, which is a must stop while in the area. This gorgeous teal coloured freshwater fjord sits nestled between tree-covered mountains in a stunning display of postcard perfection. We discovered a trail that would lead us down to the lake where it is possible to swim - albeit a cold swim. This lake is glacier fed afterall.
Free camping in Lillooet
On our way to our final stop, Lillooet's first commercial winery, we noticed a BC Hydro campground as we were leaving Seton Lake. It turned out to be a FREE campground which was just amazing to us because how often does that happen? Presumably it's very busy in the summer months, but still worth trying to get in.
First winery in Lillooet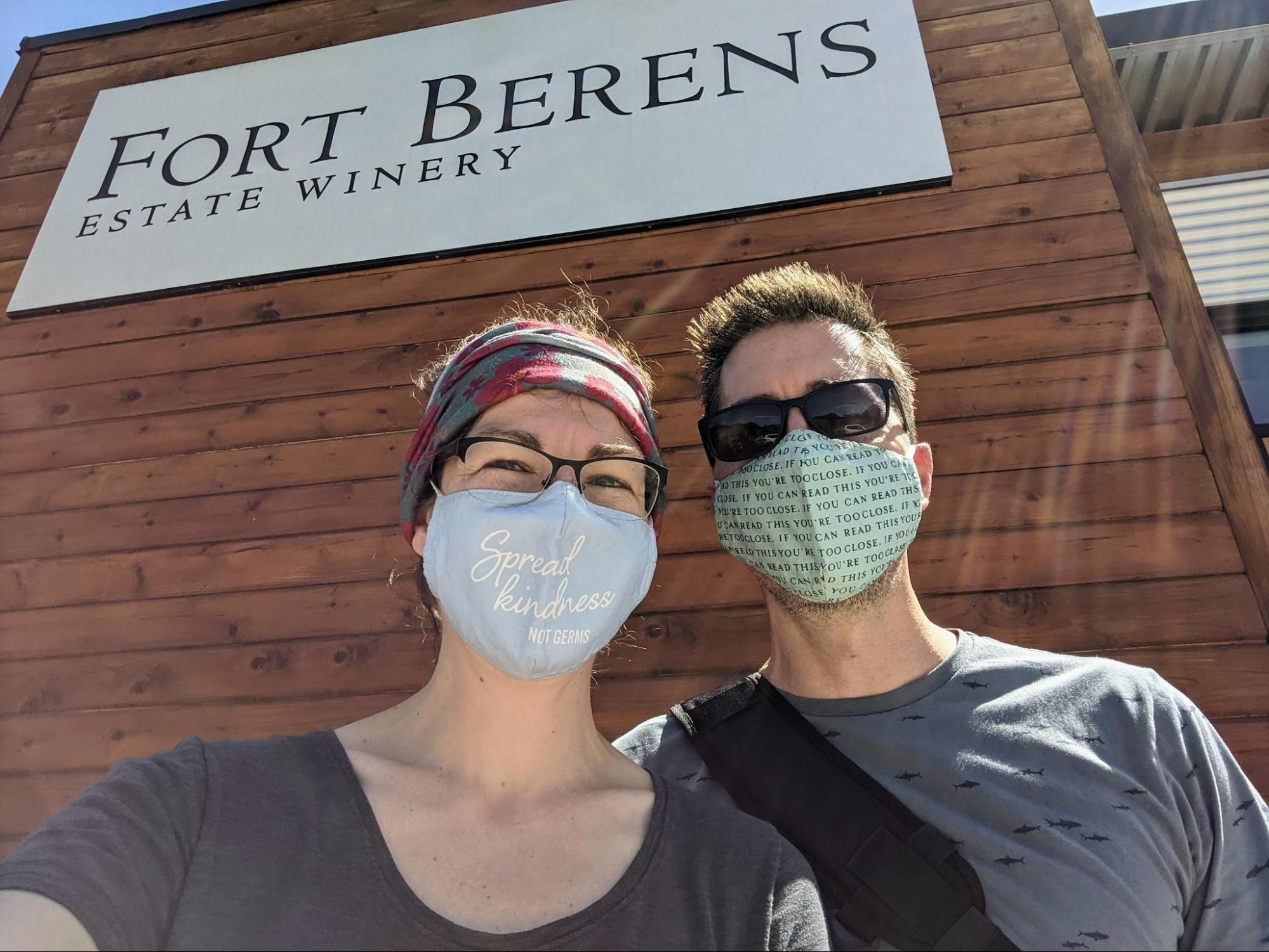 Our last stop was at Fort Berens estate winery right along highway 99. The staff were so friendly and knowledgeable about their product and town. They offered a free tasting and of course we ended up buying a couple of their tasty wines. The Gruner was our favorite. It turned out to be the perfect ending to a wonderful day discovering this incredible town.

Until next time, keep on living the life you've imagined!
Mel, Jay & Benny