Oxygenics Fury RV REVIEW
#rvlife #travel #shower
2021-05-20
2021-05-20
#rvlife #travel #shower
https://img.youtube.com/vi/Hft2QnVBZWA/mqdefault.jpg
https://img.youtube.com/vi/Hft2QnVBZWA/maxresdefault.jpg
1280
720
Our unsponsored Oxygenics fury RV shower head review describes the features of the Oxygenics fury RV shower head and compares our shower experience with a standard RV shower head to a shower experience with the Oxygenics fury RV shower head.
Oxygenics Fury RV REVIEW
The shower head that has it all...
We bought and installed an Oxygenics Fury RV shower head because the standard shower head in our RV offered a very lacking shower experience and we found ourselves wasting a lot of water trying to rinse off in what can only be described as a trickle. Washing Mel's long and thick hair was the biggest pain and hassle ever! It took forever for that shower head to rinse all the shampoo out. The old one had to go.
We chose the Oxygenics Fury RV, specifically, because of three reasons:
There are consistently good reviews online

We like the wider spray pattern

We wanted a shower head that would maximise water conservation so that we can go out boondocking as long as possible.
After a lot of research we decided that the Oxygenics Fury RV shower head was likely going to be our best bet for getting better water pressure and a better shower. So we went for it. We love the 5 different spray patterns it offers. Some are great for a good rinse off, others better for a gentle spray down. The water pressure is very much improved all thanks to the oxygenics feature that mixes air into the shower head to give the water an extra boost.
...or does it?
Not everything is perfect about our Oxygenics Fury RV, though. Our biggest concerns actually have nothing to do with the shower head itself, but instead with the hose and mounting bracket. Although the hose looks like it is made of metal, it is not and is instead made with plastic. We're not sure how long it will hold up, so we'll have to continue using it to find out. Since the release of our video, however, we have heard from a couple of people who have been using their Fury RV for several years and the hose is still going strong. This makes us hopeful.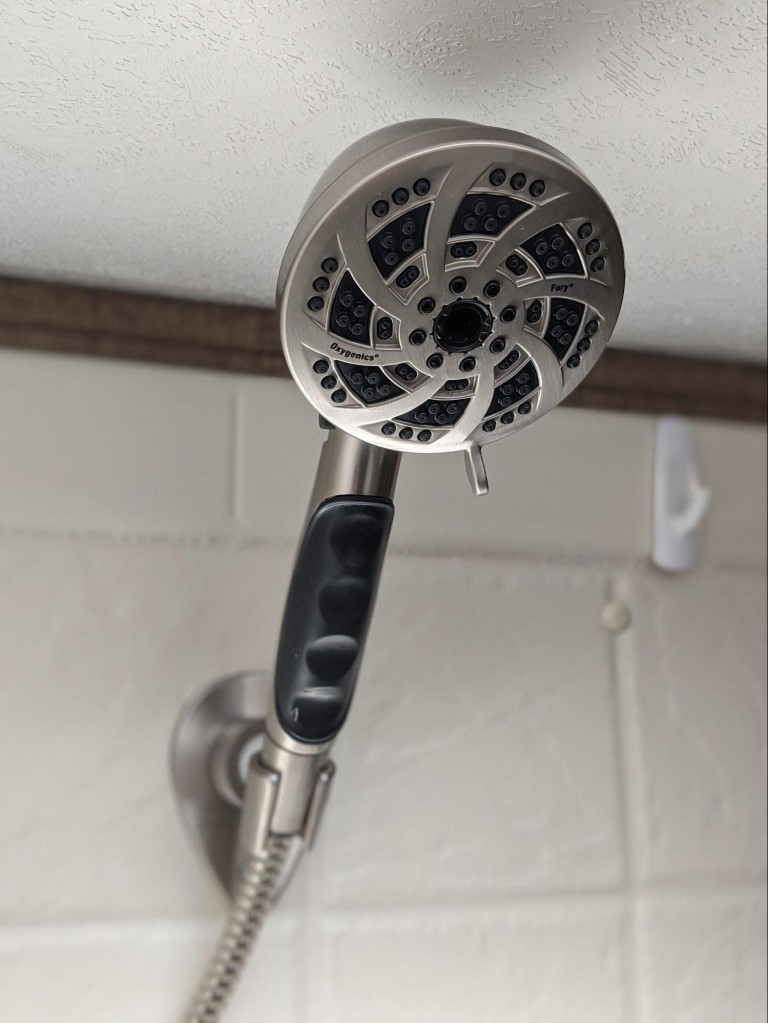 The other annoying thing that we have not been able to address yet is that the weight of the shower head tilts the rotating ball on the bracket and it keeps sinking down. This might make more sense if you see what I'm talking about, which you can in our video. No matter how much we tighten the collar, we cannot get the bracket to stay in the position we want it to.

Overall, we are very happy with our purchase of the Oxygenics Fury RV shower head and think it was worth every penny. We plan to spend a lot of time in the RV in the coming months, and being able to have a nice shower is important to us. It just makes RV living that much more comfortable. We hope you found this helpful. Be sure to watch our video review (linked above), too! There are a few more details it shares.
Until next time, keep on living the life you've imagined!
Mel, Jay & Benny