Camping at Sasquatch Provincial Park
#rvlife #travel #bcparks #review
2021-05-09
2021-05-09
#rvlife #travel #bcparks #review
https://img.youtube.com/vi/E7in4NO0E50/mqdefault.jpg
https://img.youtube.com/vi/E7in4NO0E50/maxresdefault.jpg
1280
720
We recently enjoyed a few days at Sasquatch Provincial Park in British Columbia (BC), Canada. We stayed at the Hicks Lake campground mid-week on a first come, first serve site that worked out great for us.
Camping at Sasquatch Provincial Park
We recently enjoyed a few days at Sasquatch Provincial Park in British Columbia (BC), Canada. We stayed at the Hicks Lake campground mid-week on a first come, first serve site that worked out great for us. I wouldn't recommend showing up like we did, though, and you can read why in our review of Hicks Lake campground. We went to Sasquatch Provincial Park to celebrate our 7th wedding anniversary.
An Anniversary Tradition
Have you ever done something for a special occasion that might be considered unconventional? Maybe you've eaten non-traditional foods for a holiday meal, or perhaps celebrated your birthday by not celebrating at all. The point is, celebrations should be about enjoying ourselves and not forcing traditions when it doesn't feel right. Don't get me wrong, I still think that traditions have their place. Christmas just isn't Christmas for us until we've watched National Lampoon's Christmas Vacation and decorated a tree. Although there was one year where we went scuba diving instead! I just don't feel like traditions have to be followed every single time.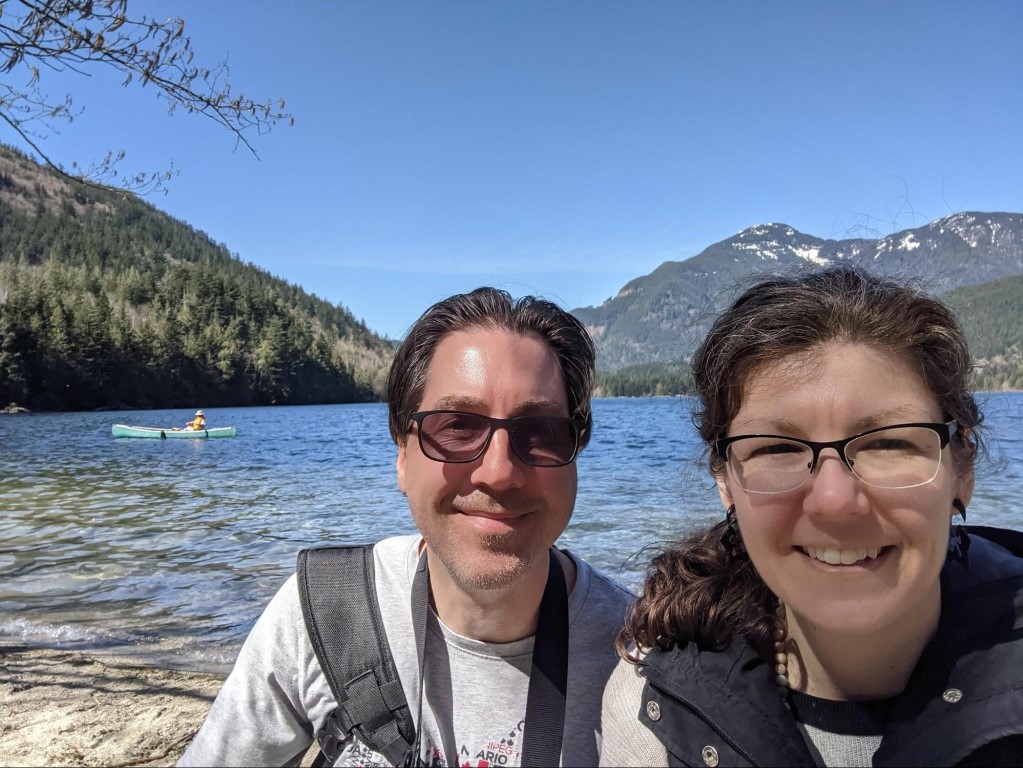 Camping isn't always considered the most romantic way to spend an anniversary, but that's what we did this year... And we loved it! Sure, we could have gone to a swanky hotel and spoiled ourselves rotten with room service and showered each other with gifts, but that isn't really our style. We have enjoyed the occasional swanky hotel, don't get me wrong, but we decided long ago (on our honeymoon, in fact) that we would go on a trip to celebrate our anniversary each year instead of giving each other physical presents. The benefit is that we don't have to stress about what we're going to buy the other person. Instead, we stress about making sure we have the right tech along to capture the moments. Ok, back to camping...
A rare sight
While staying at Sasquatch provincial park, we took a nature walk on the Beaver Pond trail. It's a great little 20 minute walk that circumvents, you guess it, a beaver pond. Although we didn't see any of Canada's largest rodents, we did come across an equally rare sight.
It started with hearing a kind of chirping sound in the distance. I couldn't figure out what it was and thought that it was the flock of ducks I could see floating on the pond. But, there seemed to be a lot more chirping than ducks, so we walked closer to investigate. As we continued on the path the sound got louder and louder until we were right next to it...but what was it? There were no ducks in the pond here, and all we could see through the brush was some rippling in the water. That's when Jay decided to go in for a closer look and made his way down a deer path closer to the water. He called back to tell me that it was hundreds of toads! We had stumbled upon mating season for the Western Toad, whose populations are in decline across North America.
These toads journey through the surrounding forest each spring to mate and lay their eggs in the pond. Once the tadpoles are mature, they leave the pond and live in the forest until they, too, start making the journey to the pond each spring. Their migration each year back and forth from the pond is protected as best as possible by warning hikers about their presence so people tread lightly and don't accidentally squash one. The babies are pretty tiny. We saw one once that was about the size of a quarter!
Also while on the trail, we took the opportunity to let Benny out of his backpack to enjoy a quiet sunny spot. He's usually pretty shy with new places and doesn't often like to come out of his backpack on the trail, but this day he must have felt pretty good about it. He hopped out, rolled on the warm gravel, and then continued on down the trail with us! That is, until we got to a footbridge and that's when we thought it would be better to go under it instead of on it! Back into his backpack he went.
Clearly love was in the air and we had a wonderful time celebrating our anniversary camping and exploring a local corner of nature. Who knows where we'll end up celebrating next year, but our thing we can count on is that we'll be out adventuring and discovering somewhere new.
Until next time, keep on living the life you've imagined!
Mel, Jay & Benny