Hearst San Simeon State Park Campground
#rvlife #travel #san-simeon
2022-05-15
2022-05-15
#rvlife #travel #san-simeon
https://img.youtube.com/vi/f9dcDQIiI-8/mqdefault.jpg
https://img.youtube.com/vi/f9dcDQIiI-8/maxresdefault.jpg
1280
720
Hearst San Simeon State Park is a great budget camping option on the California Coast. We used it as our basecamp for exploring the Big Sur coastline and surrounding communities of Cambria and San Simeon, California.
In California, the cost of camping can add up pretty quickly. Free camping is almost non-existent on the coast, and inexpensive camping is also a bit of a rarity. That's why when we found sites at the Hearst San Simeon State Park for less than $25/night we were very excited and stayed for about a week. We used this park as our home base for exploring the Big Sur coastline and the nearby towns of Cambria, San Simeon, and Harmony.
Camping at Hearst San Simeon SP
The Hearst San Simeon State Park is split into two campgrounds - the San Simeon Creek campground with 138 sites (some with hookups at extra cost) and the Washburn campground with 68 ultra primitive sites. I say 'ultra-primitive' because the only amenities in that area are pit toilets and trash/recycling bins. All showers, water-fill points, sani-station, etc are located in the San Simeon Creek campground.
We stayed at the Washburn campground and noticed that there were quite a lot of other trailers and RV's in that area (presumably since they can bring in their own water and are self-contained with a toilet and shower). We liked this campground because it was about 1 mile inland from the highway which meant we couldn't hear any road noise at night.
Nearby Attractions at Hearst San Simeon SP
As mentioned, we used this park as a base camp to be able to explore the surrounding region. The town of Cambria is about 2 miles down the road, and is full of artist's galleries, cafes, and shops. A couple of miles south of Cambria is an even smaller artist village called Harmony, which is famous for its tiny population of 18 people.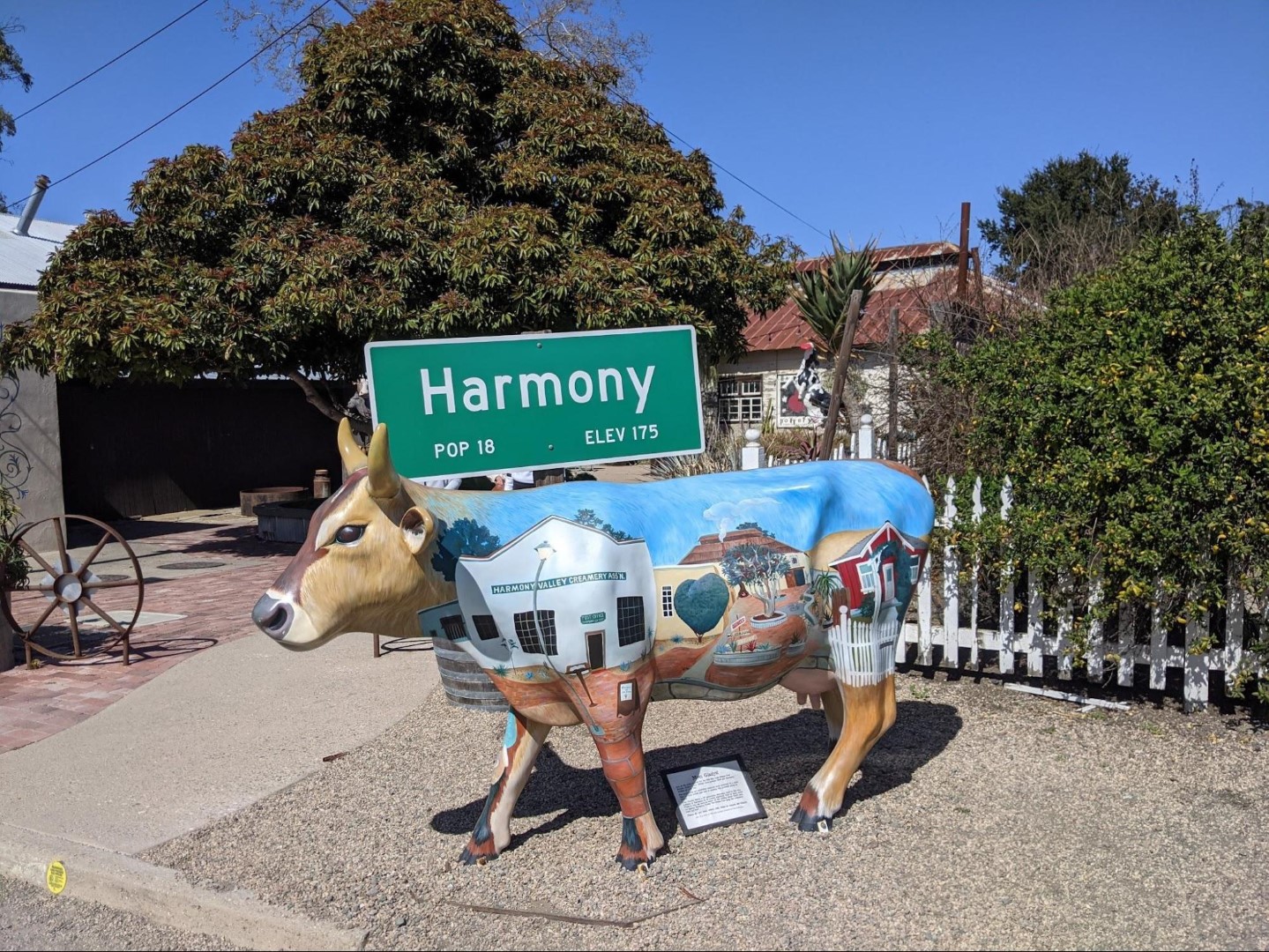 Heading north from the park is the town from which it gets its name, San Simeon. There, we visited the elephant seal rookery, and the pier and beach at Hearst Memorial beach, where we saw sea otters. The famous Hearst Castle is found in this area as well, but sadly it was closed to visitors when we were there. We did, however, spot their herd of wild zebras in the surrounding fields.
Driving North of San Simeon took us to the Big Sur coast of California. We were amazed at how much there is to see and do, that we made an entire video about our day trip there. We could have easily spent weeks exploring it. Our favorite attraction was the purple beach!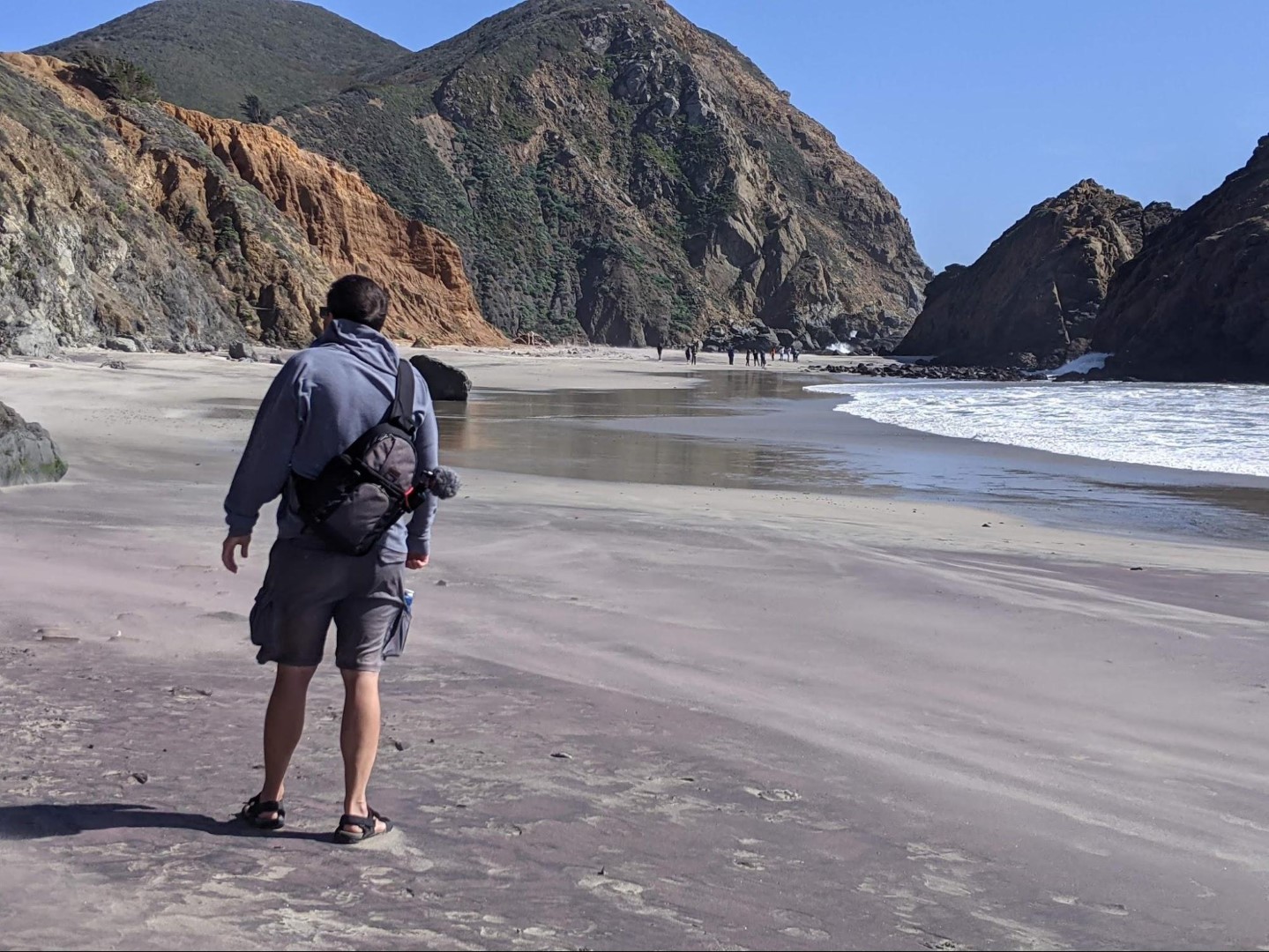 The Hearst San Simeon State Park worked as a great base camp for us to be able to explore Big Sur, and the surrounding central coastal area of California. We would recommend it for anyone not willing or interested in towing a trailer along that stretch of highway (which can be windy, narrow, and stressful) and as a budget option to help limit costs and make a trip like this a little more affordable.
Until next time, keep on living the life you've imagined!
Mel, Jay & Benny