Yuma - Canada's Most Southern City
#rvlife #travel #yuma
2022-02-06
2022-02-06
#rvlife #travel #yuma
https://img.youtube.com/vi/bfMxmH7AmNI/mqdefault.jpg
https://img.youtube.com/vi/bfMxmH7AmNI/maxresdefault.jpg
1280
720
There are so many Canadians that come here in the winter that some call Yuma, AZ Canada's most southern city - and there's a t-shirt for it, too!
Yuma - Canada's Most Southern City
While visiting the Arizona Marketplace in Yuma, we came across a t-shirt that read "Yuma, Canada's Most Southern City". We couldn't resist buying one for Jay because we often find ourselves wishing there was a sunny and hot destination in Canada for us to vacation in the winter. It seems we've now found it.
As it turns out, about one third of Yuma's winter visitors are Canadian. Yuma is also the warmest city in Arizona during the winter, so it just makes sense that people would want to head there. The dry, sunny climate makes it the perfect rain-free, snow-free spot to winter with all the amenities you could possibly need, including cheap dental care in Mexico.
Yuma is right on the Arizona-California border and Mexican border across from Los Algodones. It is possible to take a day trip there to do some shopping or partake in the popular medical tourism for a fraction of the cost of what it would cost at home, but that will have to be another post.
Free Camping near Yuma
We like to boondock wherever we can. Who doesn't love free?! During our stay around Yuma, we found a couple places within 30-40 minutes away from the city center where we could camp for free. This made it really easy for us to enjoy nature and the peace and quiet of the desert while having amenities easily available to us.
American Girl Mine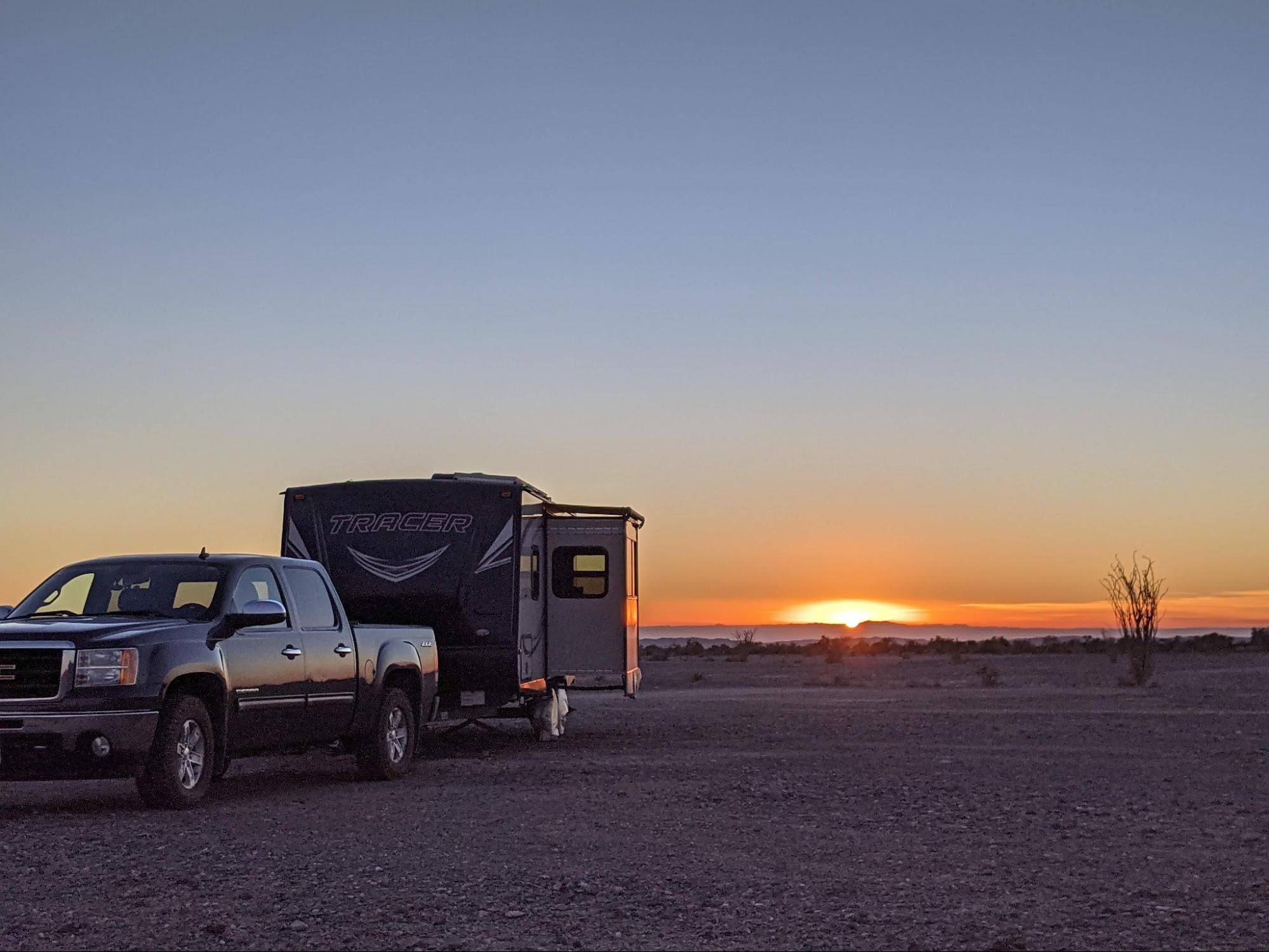 This boondocking spot is on BLM land about 30 minutes north-west of Yuma near coordinates 32°50'09.5"N 114°48'40.7"W. Get off the highway at Ogilby Rd and take the first right after the train tracks. Yes, there are trains, but the main camping area is far enough away from them that we could barely hear them. There were not a lot of people here when we stayed here, and there was lots of space for everyone to spread out. As with all BLM lands, there is a 14 day limit to camp here. With fewer activities here, it makes for a great spot to get away from it all and relax around the campfire.
Mittry Lake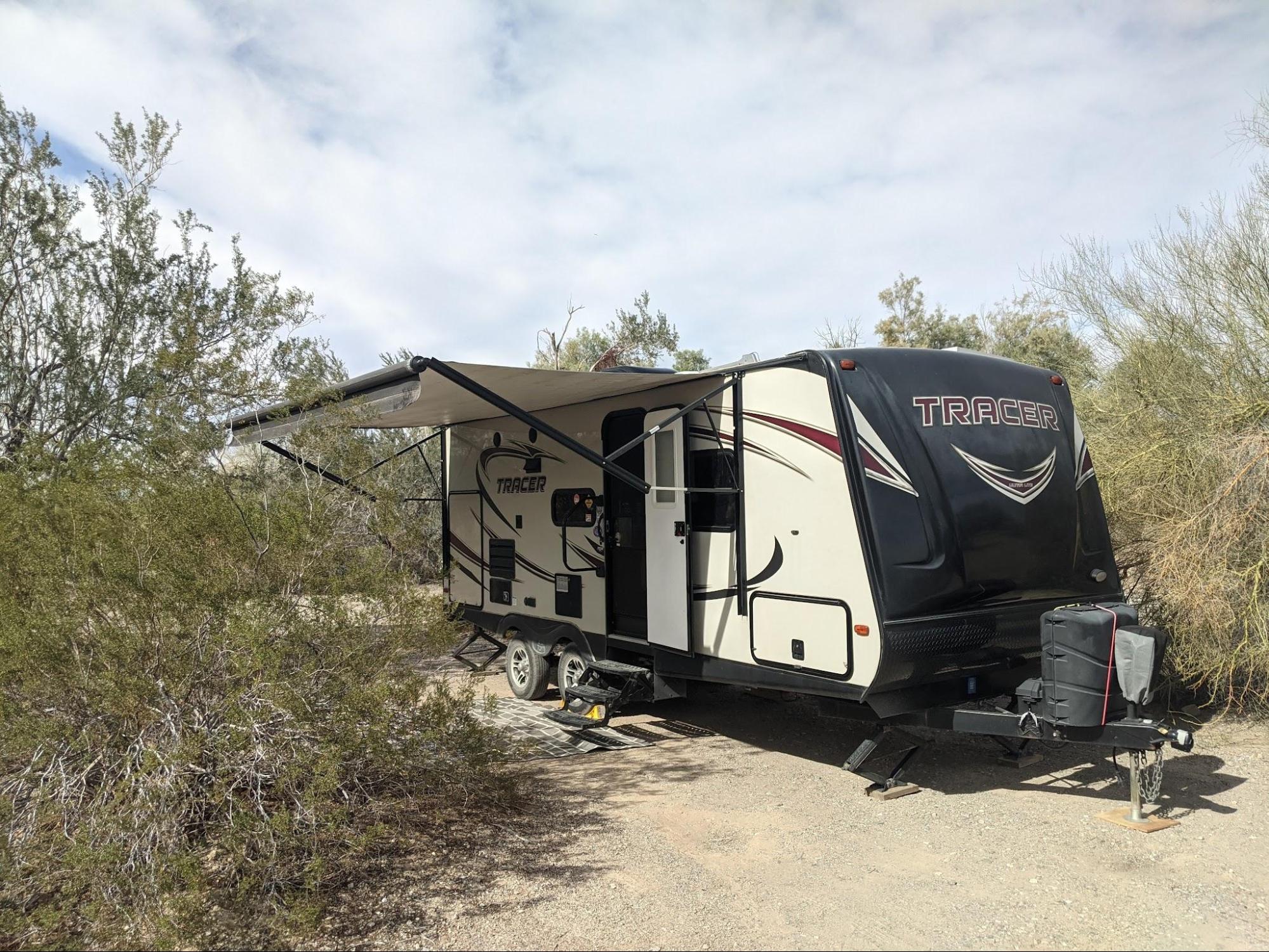 Mittry Lake is a wildlife preserve about 30 minutes north-east of Yuma. There is a designated camping lot near the boat launch (32°49'12.2"N 114°28'20.9"W), but we also found a lot of dispersed camping spots and people doing just that. This spot is a huge contrast to the desert boondocking in American Girl Mine and Senator Wash/Imperial Dam because of the huge lake teeming with ducks and other birds who call the bulrushes and cattails home. There are also lots of desert OHV trails to explore and lots of opportunities to go birding and wildlife viewing.
Yuma is a really nice place to spend time in the winter, and we will likely be back. The camping is great, the amenities are great, and with so many other friendly Canadian faces around, what's not to love? Be sure to check out our videos to see some of the places we visited while there.

Until next time, keep on living the life you've imagined!
Mel, Jay & Benny