Campgrounds BC || Hicks Lake campground review
#rvlife #travel #campground #review
2021-05-03
2021-05-03
#rvlife #travel #campground #review
https://img.youtube.com/vi/IqAh0QPkwzw/mqdefault.jpg
https://img.youtube.com/vi/IqAh0QPkwzw/maxresdefault.jpg
1280
720
We review the Hicks Lake campground in Sasquatch Provincial Park BC. It is one of many campgrounds in BC and is located near Harrison Hot Springs in BC, Canada. This campground review will show what amenities are available, things to do at Hicks Lake BC, and we will share what we think are the top 5 sites. Beautiful camping is found here.
Campgrounds BC || Hicks Lake campground
review
Beautiful camping in Canada
British Columbia, Canada has arguably the most beautiful camping spots in all of Canada. There are so many to choose from and each one has its own unique characteristics. Recently, we stayed at Hicks Lake campground in Sasquatch Provincial Park. It is one of three campgrounds found here, and is located only 13km away from the resort town of Harrison Hot Springs.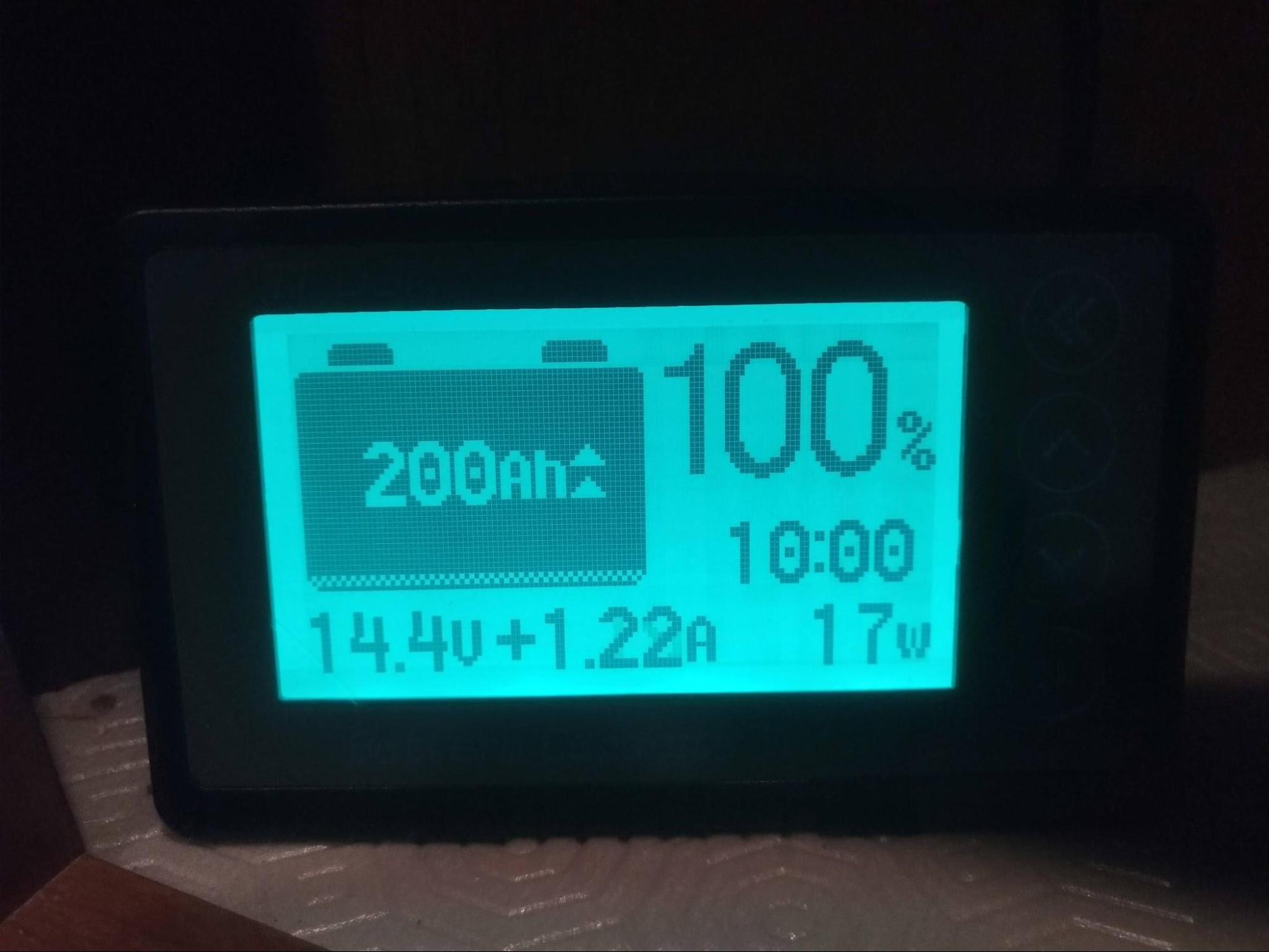 We had planned to spend three nights here, but upon arrival learned that the first come first serve (FCFS) availability is limited to 2-nights at a time. So, if the site we chose was not reserved after our two nights, we could ask to extend our stay or jump to another site that was not reserved. We opted to stay just the 2 nights since the site we had was booked right after us.
The park attendant was kind enough to let us know that reservations are pretty much a necessity for weekend stays and in the summer months.
Amenities at Hicks Lake campground
All of the 72 sites are boondocking, or dry camping, sites which means that there are no hookups for water, electricity, or sewer. Amenities that can be found here are:
| | |
| --- | --- |
| Water pumps | Fire pits |
| Outhouses | Boat launch |
| Picnic tables | Sani-station (extra fee) |
We were fortunate to have our lithium batteries on board to take care of our energy needs during our stay. This meant that we didn't have to run our backup generator at all. We heard a couple of generators running while we were there, but the campground has strict generator hours that campers are expected to adhere to. These hours were found posted on the information board at the entrance.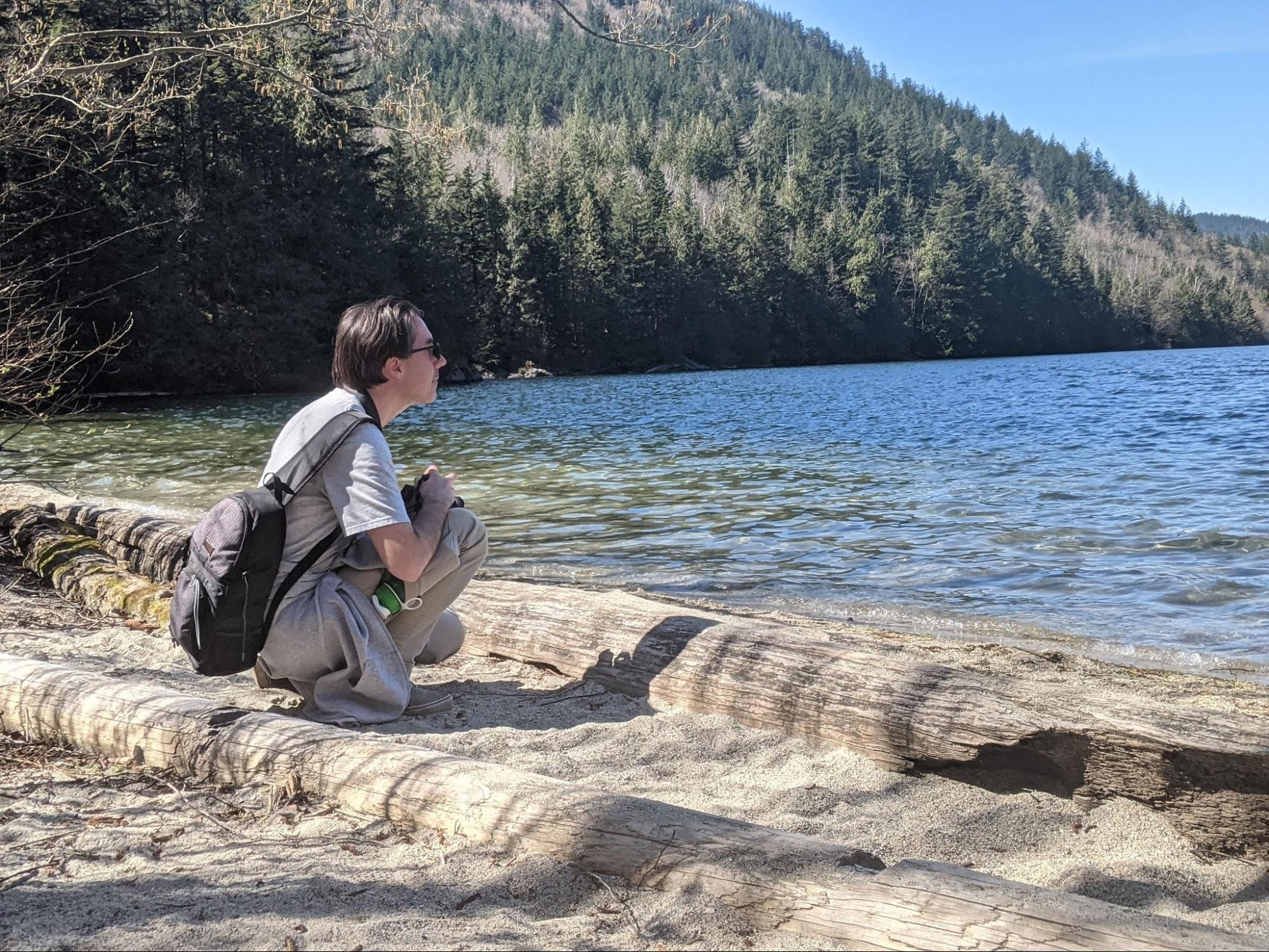 We had also filled up our water tank before leaving home, so we didn't have to rely on the campground water source. Good thing too, because there was a boil order in effect while we were there. This meant that water from the campground water pump needed to be boiled before using it for drinking, brushing teeth, or cooking.
Things to do at Hicks Lake campground
We spent time exploring and hanging out on our campsite. There are two trails in and around the campground - the Hicks Lake trail and Beaver Pond trail. We did both and enjoyed both equally for different reasons.
Beaver Pond trail is a short, 20 minute(ish), loop around a small marsh where we saw ducks, geese, beaver lodges, and toads. It happened to be mating season for the Western toad while we were there, which was pretty neat to see. They sure make a lot of noise - we could hear them from across the pond!
The Hicks Lake trail is a longer, 2(ish) hour walk all the way around, you guess it, Hicks Lake. Part of the trail follows an old logging road and part follows a forest path along the water. There is a small beach at the south end of the lake, which was pretty quiet when we were there.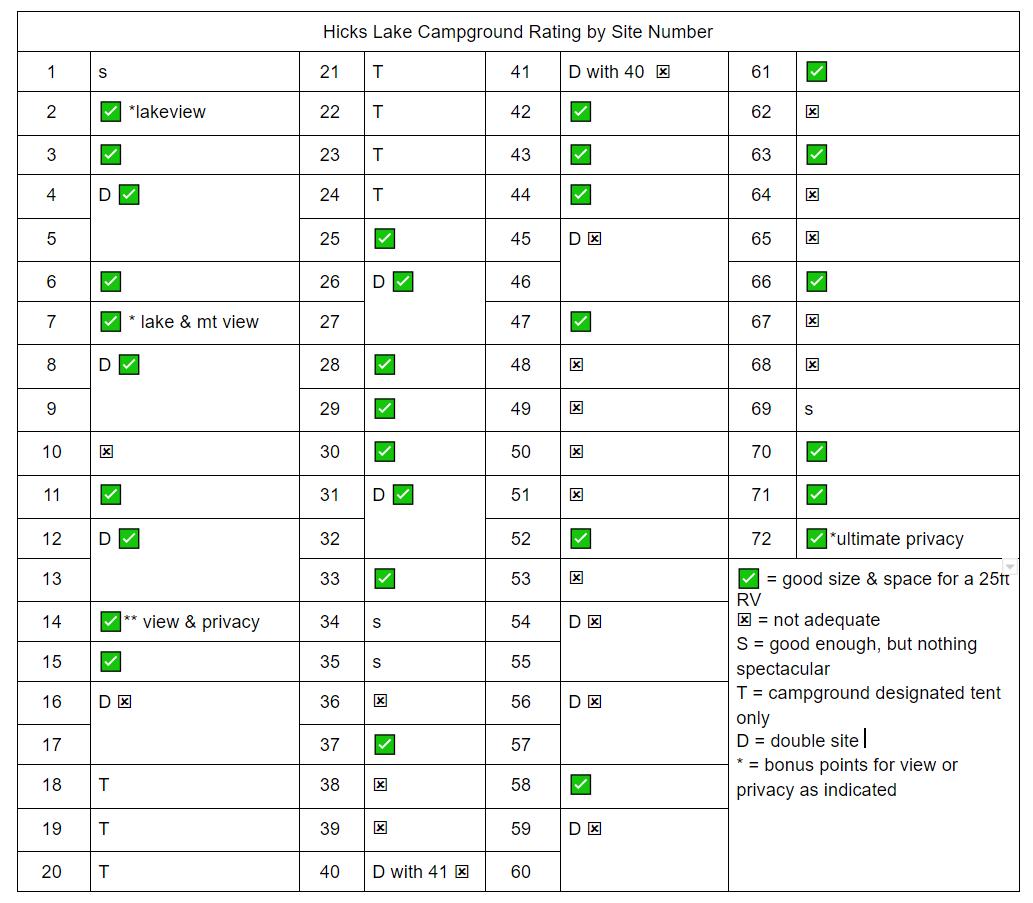 Other activities at this campground include:
| | |
| --- | --- |
| Cycling *ebikes are not allowed on the trails | Water skiing *10 hp boats max |
| Fishing | Interpretive programs at the Amphitheater |
| Canoe/Kayaking | Harrison Hot Springs only 13km away |
Best sites at Hicks Lake campground
We found that not all sites are created equal at Hicks Lake campground. This is probably the case at a lot of campgrounds, but we really noticed it here. Some sites were long and narrow whereas others were wider and much closer to what we expect at a provincial park.
We found that big rigs greater than 30ft would need a double site to have enough space, and saw a number of big rigs who had done exactly that.
We walked to see all 72 of the sites and picked out our favorites for future stays. In our video we shared our top 5 sites, but there are more great spots as shown in the chart below. It's important to note that our ratings are based on our abilities and needs for a 25 ft travel trailer, and purely our own opinion. Others may find sites that we found not adequate to be perfect for their needs.
A site earned a checkmark (✅) if it met our criteria for space (wide enough for the fire pit and table to be beside to the RV and deep enough for a 25 ft travel trailer).
Extra points (*) were awarded for lots of privacy and/or a good view.
Campground designated tent only sites are marked with a 'T'
Double sites, marked with a 'D', earned a checkmark if it could comfortably fit two 25 ft RV's. If not, it may still fit one big rig, but we didn't feel that actually fit within the definition of a double site.
Furthermore, if we felt a site was "good enough", but nothing to write home about we gave it an 's' for 'so so'.
Any sites marked with an '🗷' did not meet our criteria for space, size, or extras and (in our opinion) were only appropriate for tenting.
Hicks Lake Campground Rating by Site Number

1

s

21

T

41

D with 40 🗷

61

✅

2

✅

*lakeview

22

T

42

✅

62

🗷

3

✅

23

T

43

✅

63

✅

4

D ✅

24

T

44

✅

64

🗷

5

25

✅

45

D 🗷

65

🗷

6

✅

26

D ✅

46

66

✅

7

✅

* lake & mountain view

27

47

✅

67

🗷

8

D ✅

28

✅

48

🗷

68

🗷

9

29

✅

49

🗷

69

s

10

🗷

30

✅

50

🗷

70

✅

11

✅

31

D ✅

51

🗷

71

✅

12

D ✅

32

52

✅

72

✅*ultimate privacy

13

33

✅

53

🗷

✅ = good size & space for a 25ft RV

🗷 = not adequate

S = good enough, but nothing spectacular

T = campground designated tent only

D = double site

* = bonus points for view or privacy as indicated

14

✅** view & privacy

34

s

54

D 🗷

15

✅

35

s

55

16

D 🗷

36

🗷

56

D 🗷

17

37

✅

57

18

T

38

🗷

58

✅

19

T

39

🗷

59

D 🗷

20

T

40

D with 41 🗷

60
We really enjoyed our short stay at Hicks Lake campground in Sasquatch Provincial Park. We will be sure to make reservations for a longer stay in the future and now that we have our handy site number ratings, we'll be better able to pick a site online that will be perfect for us. We hope this chart becomes useful for someone else, too.
Until next time, keep on living the life you've imagined!
Mel, Jay & Benny