Boondocking 101: Newbie Guide to FREE Camping
#rvlife #travel #boondocking #freecamping
2021-04-01
2021-04-01
#rvlife #travel #boondocking #freecamping
https://img.youtube.com/vi/g_a1a9noMWA/mqdefault.jpg
https://img.youtube.com/vi/g_a1a9noMWA/maxresdefault.jpg
1280
720
What is BOONDOCKING? In this boondocking 101 video, we hope to answer newbie questions about boondocking and free camping, such as: Where do you get water? What do you do about electricity?
When we started RVing we threw ourselves straight into boondocking without having ever tried it before. There were a few bumps along the way, so we want to share what we've learned and answer as many questions you might have about what boondocking is, and what to do about water and electricity.We'll also share how we find boondocking sites so you can try it, too.
What is boondocking?
Boondocking, sometimes called dry camping, is camping without any electrical, water, or sewer hookups. It requires you to be completely self-contained, and is often done off-grid in unconventional campsites. It could even refer to spending a night in a store parking lot! Best of all, it's often free or very low cost!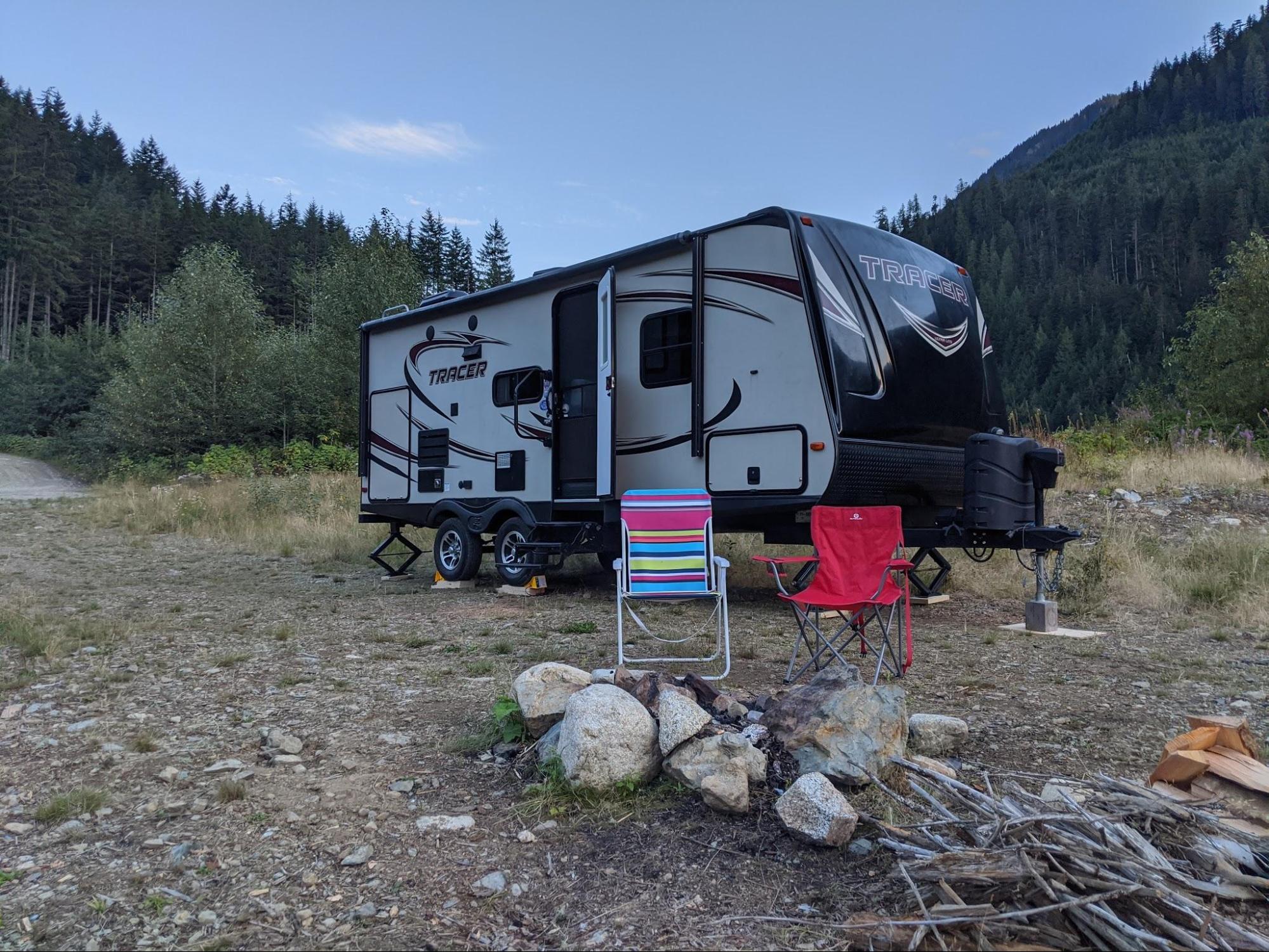 Resources & resource management
RV boondocking requires you to come prepared and to be self-reliant. When we go boondocking we still have water and power. We just have to use the on-board systems in our trailer, instead of hooking up to an external source like we would when we go to an established campground. Let's look at how those systems work:
Water when boondocking
Our travel trailer has fresh water, gray water, and black water tanks onboard. Your rig might have something similar, and it's a good idea to know each one's capacity before heading out as that will come in handy when managing your water consumption.
Before a boondocking trip, we usually fill our fresh water tank at home, based on when we think we'll have the next chance to fill up. Keep in mind a full water tank means you are carrying a lot of extra weight and may affect how your trailer handles on the road. Be sure you have enough spare weight capacity to do this.
Along these lines, we make sure the gray and black water tanks are completely empty, so we're not carrying any unnecessary weight and we have maximum capacity.
When we're not hooked up to a water source, we need to turn on the pump before turning on the tap. After that, it works just like you'd expect.
But what happens if you need more water, or need to empty your tanks? Before leaving, we look up water and dumping stations on a site called "Sanidumps" and note down a few in case we don't have cell service. Bear in mind though, that if you need to take your trailer to fill up water, there is no guarantee that your boondocking site will still be vacant when you get back. That's why we also carry a small portable tank that we can fill to tide us over until we move on.
Electricity when boondocking
For our electrical needs while boondocking, we rely on our trailer's batteries, and we carry a backup generator. Batteries will let us run the lights and radio, but not larger things like the 110V outlets or microwave. We have since upgraded our system with two Renogy SMART lithium batteries that do give us the ability to charge and use electronic devices like our phones and laptops.
The generator we carry has enough power to recharge our batteries and use the other outlets sparingly, but we prefer to use it as little as we can.
The propane tanks onboard fuel the bbq, furnace, fridge, and oven, so we are still able to cook and keep food fresh, but nothing beats a meal made on the campfire which is what we try to do as much as possible. When we run out of propane, we can refill tanks at many gas stations or Costco, or do a tank exchange at many grocery and hardware stores.
Boondocking resource management
So, we have a lot of the same resources available to us that we would with hookups, the source is just what's changed. The trick to being able to boondock for extended periods of time, is managing these resources carefully. Unlike with hookups, our water and energy supplies are limited. So, here are a few things we do to conserve our resources and maximize our stay:
Water → Installing a water conserving shower head is a good first step, as well as turning off the water with the switch on the shower head while lathering up. We also don't take a full shower every single day if we can help it. That might sound a little gross at first, but there are other effective ways to freshen up, including sponge baths, body wipes, and waterless shampoo which all use very little to no water.

Propane →

We prepare as much food as we can before leaving so we don't have to use the oven or BBQ for extended periods. Our campfires also do double duty by cooking a lot of our food.

Electricity → To save battery power, we turn off the water pump between uses, use the lights sparingly, and use low energy methods for heating and cooling. For example: wearing layers, bringing blankets, having the windows open for a breeze, and parking in shaded areas.
We check water and energy levels about 3 times a day to gauge usage and estimate when we might need to refresh.
Tools to bring boondocking
Because we need to be self reliant while boondocking and we are often in remote places with very few services, we try to bring any tools we might need, including:
Jumper cables and a portable battery booster

A Portable air compressor to maintain tire pressure

A Bottle jack, torque wrench, and spare tire in case of a flat

Orange traffic cones

Walkie-talkies

A Full tool box with wrenches, screwdrivers, multimeter and more

And finally a sealed bin to store and pack out our trash
Find free camping
We wish we could say that there was one source to find every boondocking site, but that hasn't been our experience so far. We find that using a combination of resources is really the best method to finding good boondocking sites.
So far, we've used some free apps and websites, like iOverlander.com, freecampsites.net and freeroam.app These sites have helped us find everything from walmart parking lots that accept overnight stays, to out-of-the-way off-grid sites we can use for several days.
There are also subscription-based sites like BoondockersWelcome and Harvest Hosts, which we haven't tried yet, but hear good things about. Another way we find free or nearly free boondocking sites is by word of mouth from various Facebook groups we've joined, and even in our local community near our home base.
Finding great boondocking sites does take some time and research, but we've been pretty successful with it so far.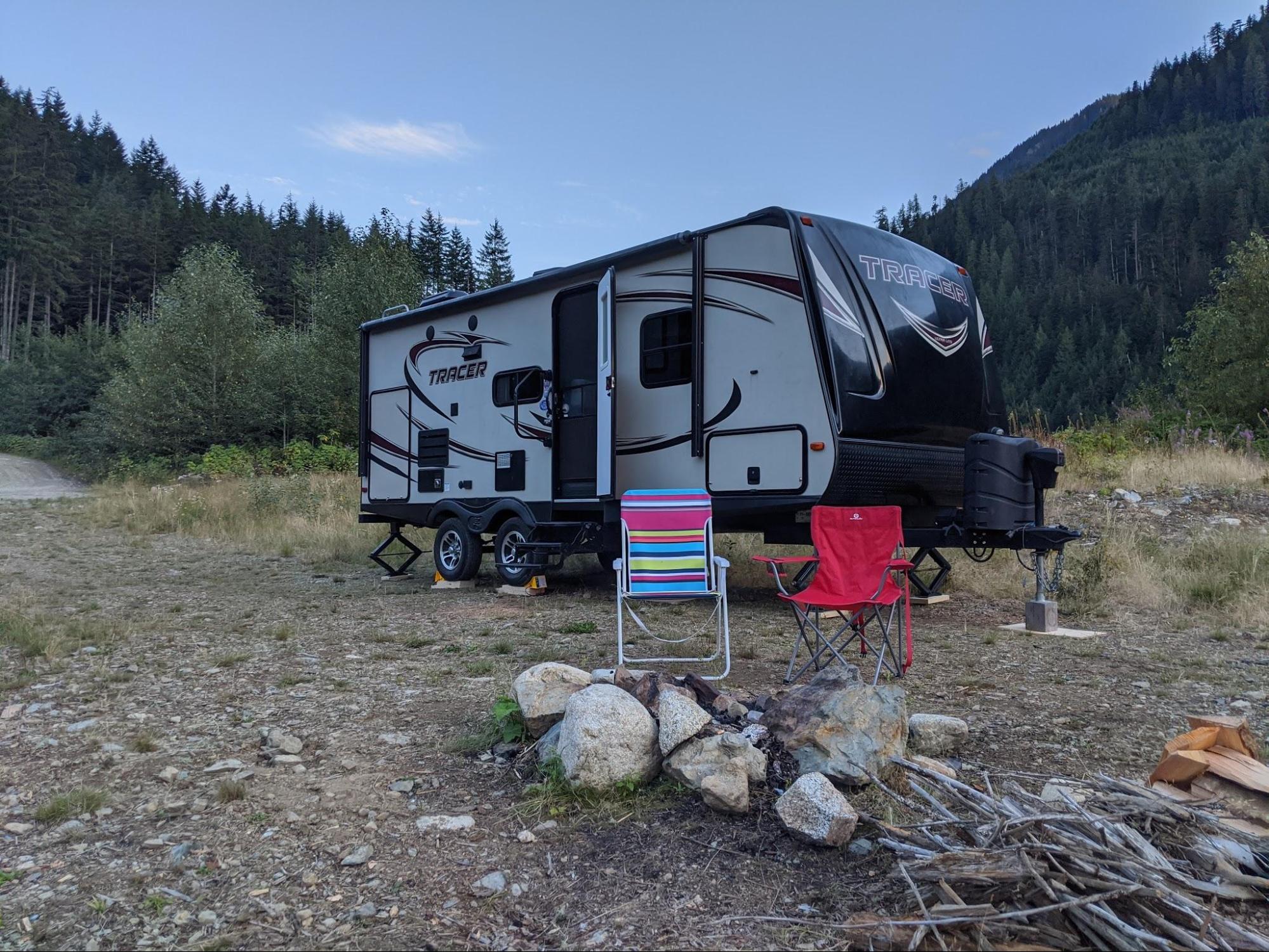 Boondocking with an RV really isn't all that different from camping with hookups. Yes, there are compromises that have to be made, but we find that those trade-offs are worth the great places we get to camp, chance to reconnect with nature, and the cost savings. Always remember to leave your boondocking site cleaner than when you got there, and leave no trace.
If you want to try boondocking, but aren't quite ready for the complete off-grid experience, might we recommend trying a site without hookups at your favorite provincial or national park? That way, you won't be far from resources if you find that you need them. We love boondocking, and hope you will, too.
In the meantime, keep on living the life you've imagined!